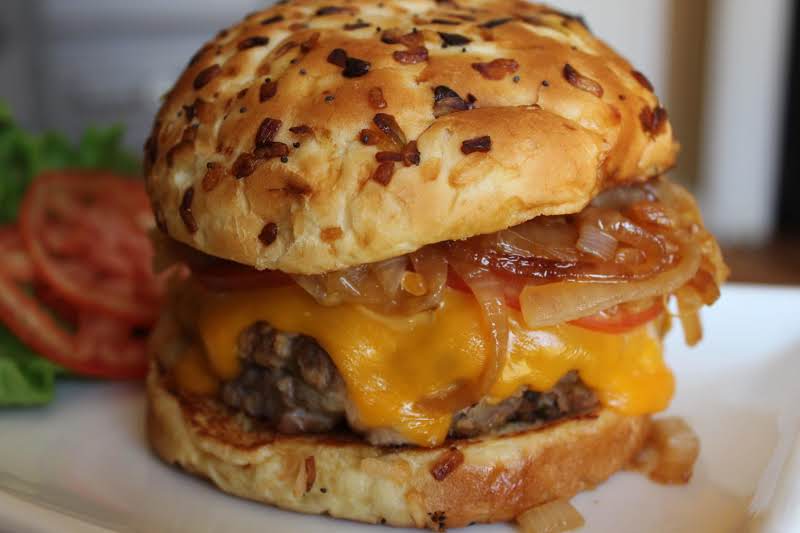 Ingredients
5
 clove fresh garlic, minced
1/3
 c worchestershire sauce
7
 slice thick super sharp cheddar cheese
2
 large eggs, room temperature
1
 c panko (Japenese) bread crumbs
1 1/2
 Tbsp steak seasoning
2
 pkg dry ranch seasoning mix
1
 medium shallot, chopped
1
 large white onion or vidalia, sliced thin and carmelized
1
 large tomato sliced thin
7
 large kaiser or onion hamburger buns, toasted
Directions
1.
 For this recipe, you will need 2 packages of dry ranch seasoning packets. I used an off-brand variety with great results and flavor.
2.
 Mince the garlic, chop the shallot, and grate the small onion.
3.
 Combine the Feta with the shredded mozzarella.
4.
 Add the ground chuck to a large bowl. Then add the eggs, panko, minced garlic, ranch seasoning, chopped shallots and grated onion, as well as the Worcestershire sauce & steak seasoning. Combine together but do not handle too much. Just enough so meat holds together.
5.
 Shape the ground beef into balls of equal size. Should get 14 total. Then pat them out flat and make a well in the center of the first burger. Then fill well with feta and mozzarella mixture. Next, flatten out another burger, and place over the burger with the cheese filling. Then press edges of burger together to seal.
6.
 Place on a large platter till all are complete. Heat a heavy bottom skillet (I used a 16-inch skillet) over medium-high heat. Then add all of the burgers or as many as you can without overcrowding. Allow to cook about 4-5 minutes on bottom side.
7.
 Then place the skillet in preheated 350 degree F oven and continue to cook for another 4-5 minutes or until desired doneness. Then add a slice of sharp cheddar cheese to each burger and leave in oven for 1 to 1 1/2 minutes until cheese melts. Remove from oven and serve on toasted buns if desired with tomato slices, grilled onions, & flat pickles.
8.
 Serve with your favorite fries or onion rings.
Last Step:
Don't forget to share!