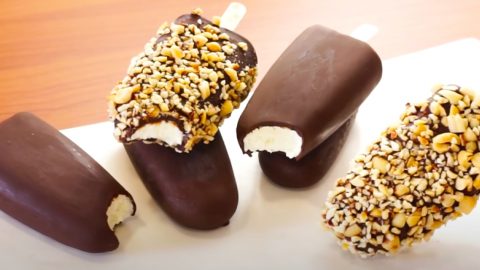 Chocolate ice cream bars are one of my favorite ice cream on the stick. I love the simple vanilla ice cream with the chocolate molding on the outside. I'm not a big peanuts person, but I do like it on the outside of the chocolate mold too. Emma's Goodies comes up with the best quick and simple tutorials. There's a lot of recipes that only include 3 ingredients or take less than 5 minutes to make. It's super convenient for those that do not have a lot of time or do not want to spend an excessive amount of time in the kitchen. I love cooking and baking but if I can find recipes that are fast and easy, then that's what I'm more prone to be attracted to. In this video, Emma shows how to create chocolate ice cream bars with just 3 ingredients.
Ingredients:
500g Heavy Cream ( 2 cups + 2 tbsp)
350g (12.5 ounces) Sweetened Condensed Milk OR 150g Fine Sugar (3/4 cup)
1 1/2 tsp Vanilla
1/8  tsp Salt
Chocolate Shell:
300 gr Sweetened Chocolate (11 ounces)
3 tbsp Coconut Oil
Chopped Salted Peanuts (Optional)
Directions:
First, start making the vanilla ice cream with condensed milk and sugar. For best results use cream and condensed milk. You can substitute the cream for whole milk but as mentioned in the video, these won't have a creamsicle texture and flavor. If you do not have a mold, you can fill up the ice cream liquid and freeze in a square pan.
Next, make the chocolate shell and transfer it in a tall glass. Dip the vanilla ice cream on the stick into the chocolate. The chocolate will quickly mold within seconds.
Overall, this is a great way to create ice cream bars for the summer. They're fun and easy to make with your kids too.