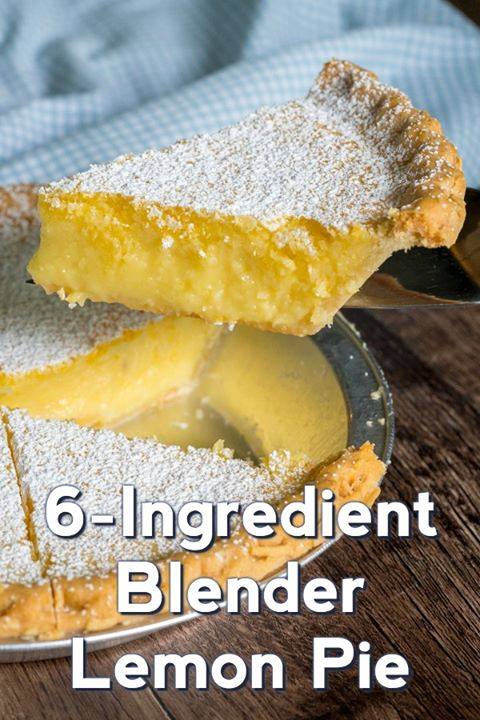 Are you constantly on the hunt for easy, tried and true recipes that taste amazing, but don't take all day to make? If so, this recipe easily takes first place for being just about the easiest thing possible to make, truly, and you could have a delicious, (nearly) from-scratch dessert with just six ingredients and a blender. Yup, you heard us a right, this is lemon blender pie and you literally throw all the ingredients in the blender and you've got yourself a fresh, citrusy pie filling that'll keep everyone coming back for more.
We know, we know, it sounds too good to be true, but we promise you it is. A whole lemon, eggs, butter, sugar and vanilla are all that get pulsed together until you've got a finely blended mixture that's nice and smooth, with the perfect amount of graininess from the fresh lemon; it adds both texture and flavor, and makes the whole pie extra tasty. If it's taking a minute for this info to compute – is it really this easy to make a pie?? – don't worry, we were in the same boat. And yes, it actually is this easy to make this refreshing lemon pie.
So, check your fridge, freezer and pantry, since you've probably already got all the ingredients you need for this, dust off your blender, and get going. Whether you use a store-bought pie crust or you make one from scratch, rest easy knowing the filling comes together in literally 45 seconds, then all you have to do is pop the pie in the oven and bake it until the center is just set. We like to chill it so that it sets beautifully and you get clearly defined slices, but if you can't wait that long, we get it. Get some sweetness in your life and make this pie this week!

INGREDIENTS
4 large eggs
1/2 cup (1 stick) unsalted butter, melted
1 lemon, sliced into wedges, seeds removed
1 1/4 cups sugar
1 teaspoon vanilla extract
1 frozen pie shell
Powdered sugar, garnish
PREPARATION
Preheat oven to 350º F.
Place eggs, butter, lemon slices, sugar and vanilla extract in a blender, and pulse until mostly smooth.
Pour lemon filling into frozen pie shell and bake for 45 minutes, or until set.
Remove from oven and let cool completely, then dust with powdered sugar before serving.
Slice, serve and enjoy!