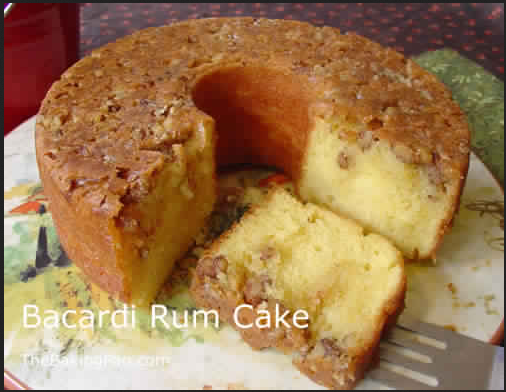 Really good! Due to this recipe I am now the official rum cake person at work and expected to bring some to potlucks and whatnot. All good with me as I really like it and it is an easy recipe. I make it in one of those floppy bundt pans sprayed with Bakers Joy (not sure if that is the name), the cooking spray that has flour in it so the cake comes out easily. Yum! Thanks!
Excellent! We served this for guests when we play cards on Friday nights. Excellent! I will be making this every Christmas from now on also.
his is my mother-in-law's recipe, one she prepares every Christmas, and while it contains some ingredients some might find patently objectionable and morally repugnant, I have absolutely no problem embarrassing myself by eating piece after piece each and every year. It's but one in a sea of rum cake recipes, but because it's so easy and so delicious, I feel compelled to share.
Christmas is coming! Have you heard?

Ingredients
1 cup chopped walnuts
1 (18.25 ounce) package yellow cake mix
1 (3.4 ounce) package instant vanilla pudding mix
4 eggs
1/2 cup water
1/2 cup vegetable oil
1/2 cup dark rum
1/2 cup butter
1/4 cup water
1 cup white sugar
1/2 cup dark rum
How to make this recipe
Preheat oven to 325 degrees F (165 degrees C). Grease and flour a 10 inch Bundt pan. Sprinkle chopped nuts evenly over the bottom of the pan.
In a large bowl, combine cake mix and pudding mix. Mix in the eggs, 1/2 cup water, oil and 1/2 cup rum. Blend well. Pour batter over chopped nuts in the pan.
Bake in the preheated oven for 60 minutes, or until a toothpick inserted into the cake comes out clean. Let sit for 10 minutes in the pan, then turn out onto serving plate. Brush glaze over top and sides. Allow cake to absorb glaze and repeat until all glaze is used.
To make the glaze: in a saucepan, combine butter, 1/4 cup water and 1 cup sugar. Bring to a boil over medium heat and continue to boil for 5 minutes, stirring constantly. Remove from heat and stir in 1/2 cup rum.