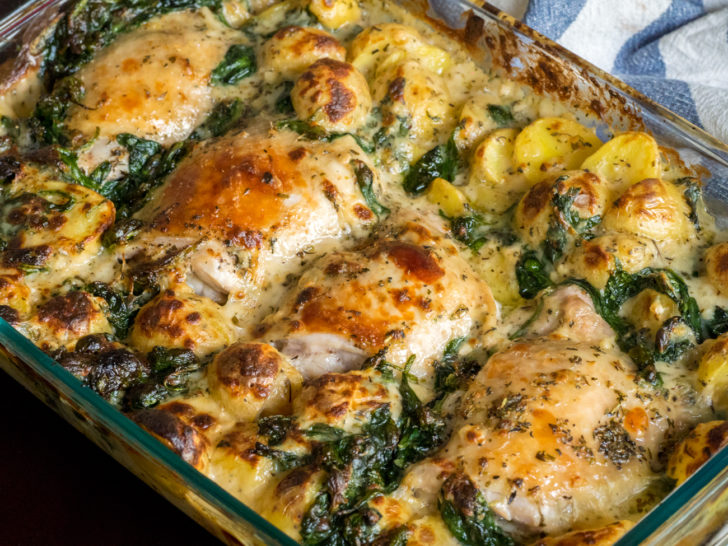 There's nothing better than pulling a piping hot baking dish out of the oven that's filled to the brim with a delicious, filling dinner to warm you up. One that's got you covered regarding proteins, veggies and starches, so that all you have to do is put it on the table and scoop it onto your plate and you're set. This baked chicken dish might at first seem simple, but don't be so quick to judge; it's chock-full of spinach and potatoes, and topped off with a decadently creamy, herbed garlic parmesan sauce that bumps the whole dish up several notches – and if you sneak a couple spoonfuls of the sauce while no one's looking, no one will be the wiser!

INGREDIENTS
6 bone-in chicken thighs (skin-on, optional)
1 pound baby Dutch potatoes, halved or quartered
3-4 cups baby spinach, chopped
4 tablespoons unsalted butter, divided
1 tablespoon Italian seasoning
Kosher salt and freshly ground pepper, to taste
Fresh parsley, optional
Sauce:
1 cup low-sodium chicken broth
1/2 cup half and half
1/2 cup parmesan cheese, grated
1/4 cup (1/2 stick) unsalted butter
1/4 cup all-purpose flour
4 cloves garlic, minced
1 teaspoon dried thyme
1 teaspoon dried basil
1/2 teaspoon dried oregano
PREPARATION
Preheat oven to 400º F and lightly grease a 9×13-inch baking dish with butter or non-stick spray.
Melt 2 tablespoons butter in a large pan or skillet over medium-high heat and sauté spinach until just wilted. Remove from heat.