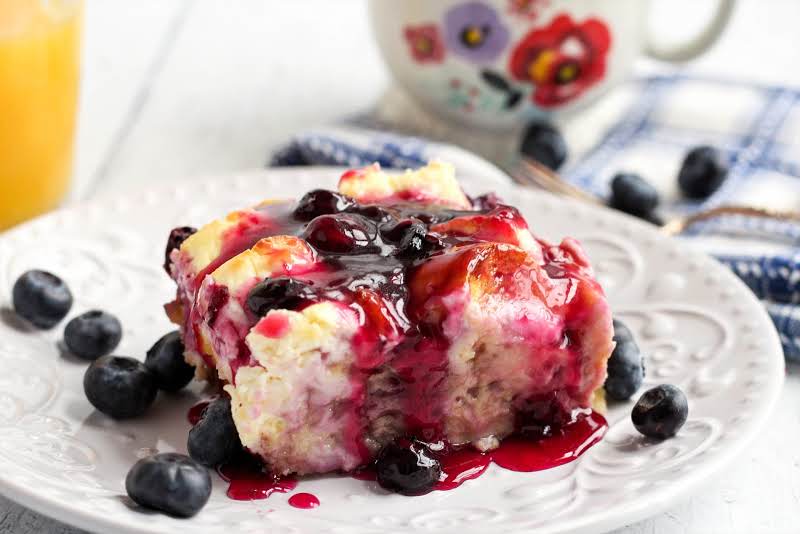 Ingredients
FRENCH TOAST
12
 slice bread, any kind or loaf of French bread
2
 pkg cream cheese, room temperature, 8 oz each
1
 c blueberries, fresh or frozen
1
 c milk, add a little at a time until milk is absorbed by bread
1/3
 c maple syrup or honey
BLUEBERRY SAUCE
1
 c blueberries, fresh or frozen
Directions
1.
 French Toast Casserole: Spray 9 X 13-inch dish with Pam. Cut or tear bread into cubes and arrange in the bottom of dish.
2.
 Cut up cream cheese into 1-inch cubes. Drop the cream cheese cubes over the top of the bread. Sprinkle 1 cup blueberries over the top.
3.
 In mixing bowl, combine 12 eggs, 1 cup milk, 1/3 cup maple syrup. Pour this mixture, a little at a time until the bread soaks up the milk but not soggy. You don't want it to be soggy before you bake it. If it's soggy before you bake it, it will be soggy after you bake it. Cover with foil and refrigerate overnight.
4.
 Blueberry Sauce: You can make this ahead of time and refrigerate, then warm up before serving. Stir together 1 cup sugar and 2 Tbsp corn starch in a medium saucepan. Add 1 cup water and stir until smooth so corn starch won't be clumpy. Heat to boiling and stir 2-3 minutes until thickened.
5.
 Add 1 cup blueberries. Simmer for 8-10 minutes, stirring occasionally until blueberries start to burst. Don't let them all burst. I like some of the blueberries whole.
6.
 Turn heat off the blueberry sauce and stir in 1 Tbsp butter. Store in plastic or glass container and refrigerate until ready to use.
7.
 The next morning preheat oven to 350 degrees. Take the casserole out of the refrigerator. Place covered casserole in the pre-heated oven and bake for 30 minutes.
Blueberry Cream Cheese French Toast Casserole
8.
 Then uncover and bake for another 25-30 minutes or until the top is a golden brown and the center is set.
9.
 While the casserole is baking, you can heat up the blueberry sauce on top of the oven or microwave until warm. Serve over top of casserole.
10.
 Prep time: 30 min to put everything together 8-24 hours – refrigerate several hours or overnight until bread is soaked through with egg, milk mixture. Cook time: 1 hour
11.
 Alternate Sauce, I call it cheating. Take jam or preserves, whatever flavor of fruit you are using to make this. Put preserves in a small saucepan. Add 1 Tbsp corn starch. Mix until smooth. Add additional fruit if desired. Warm in a saucepan until smooth and thickened. Serve over the french toast, ice cream or anything else you can think of.
Last Step:
Don't forget to share!