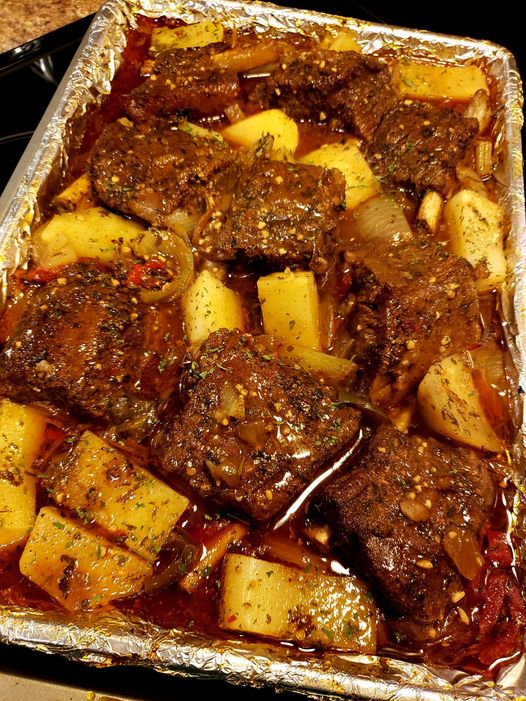 9 short ribs
Bacon grease
1 cup chopped leeks
1/2 med red, green pepper
1 stalk celery
3 cups beef broth
1 Tbsp tomato paste
1 cups water
1 sprig thyme/rosemary
3 Tablespoons minced garlic
Cajun seasoning
Salt Pepper
Flour
1/2 cup Red wine
1 cut up potato
1.Lightly season short ribs with all purpose seasoning
2.In a large heavy pot, heat bacon grease to med high
3.Sear short ribs in hot oil until nicely brown on all sides, remove from pot and set aside
4. Spread chopped vegetables in the bottom of a heavy baking dish and lay the short ribs on top.
Add red wine and tomato paste then stir until blended well
5.Pour the beef broth until ribs are partially covered. Add thyme then season to your liking. I used a cajun seasoning blend.
Cover tightly with foil and place in 350° oven for 3 to 3/12 hours.
The liquid will cook down to at least half its volume
6.Remove the lid and add the potatoes. Cover and cook another 45 minutes until potatoes are tender.
Enjoy