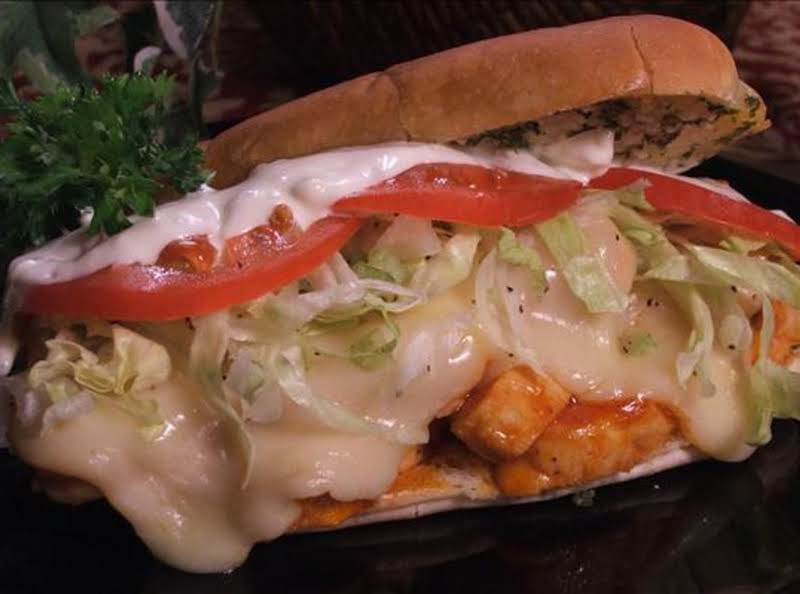 The first time I ever had "Buffalo wings" I just about flipped!! What an awesome idea that lady from Buffalo, New York had!!! Ever since then, I've used the same concept making dips, pizzas, salads, and my latest concoction… HOAGIES! They are REALLY good!! Enjoy! 😀 (Photo by me)
Ingredients
4
 hoagie rolls split half lengthwise through the middle
3/4
 c butter (1 1/2 sticks), softened
2
 Tbsp chopped fresh parsley
1
 (20 ounce) bag (7 serving size) Southwestern-seasoned chicken breast strips (Tyson fully-cooked), or use rotisserie or grilled
1
 bottle (1/2 cup) Frank's red hot sauce, original or buffalo wing flavor
1
 Tbsp Sweet Baby Ray's bbq sauce
8
 slice muenster cheese, can sub mozzarella or provolone
salt and pepper
2
 Tbsp finely chopped celery
12
 slice roma tomatoes, thinly sliced
8
 Tbsp thick and chunky blue cheese dressing, more if desired
Directions
1.
 In frying pan combine chicken, hot sauce, 4 tbsp butter, bbq sauce and chili powder. Heat til simmering. Simmer on very low.
2.
 In small bowl, combine 1 1/2 sticks soft butter, garlic, and parsley. Spread insides of hoagie rolls with butter mixture (both cut sides).
3.
 Place open-faced on cookie sheet and broil til lightly toasted. Or 4 minutes at 400º.
4.
 Top each bottom half of hoagie rolls with meat mixture, (pile high), then top each with 2 slices muenster cheese. Return to oven and bake 2 more minutes.
5.
 Remove from oven and top each with lettuce tossed with celery, and a pinch each of salt and pepper. Top each with 3 tomato slices.
6.
 Top each with 2 tbsp blue cheese dressing. Place on top halves of toasted hoagie rolls.
7.
 Cut in half on the bias. Makes 4 hoagies.
Last Step:
Don't forget to share!