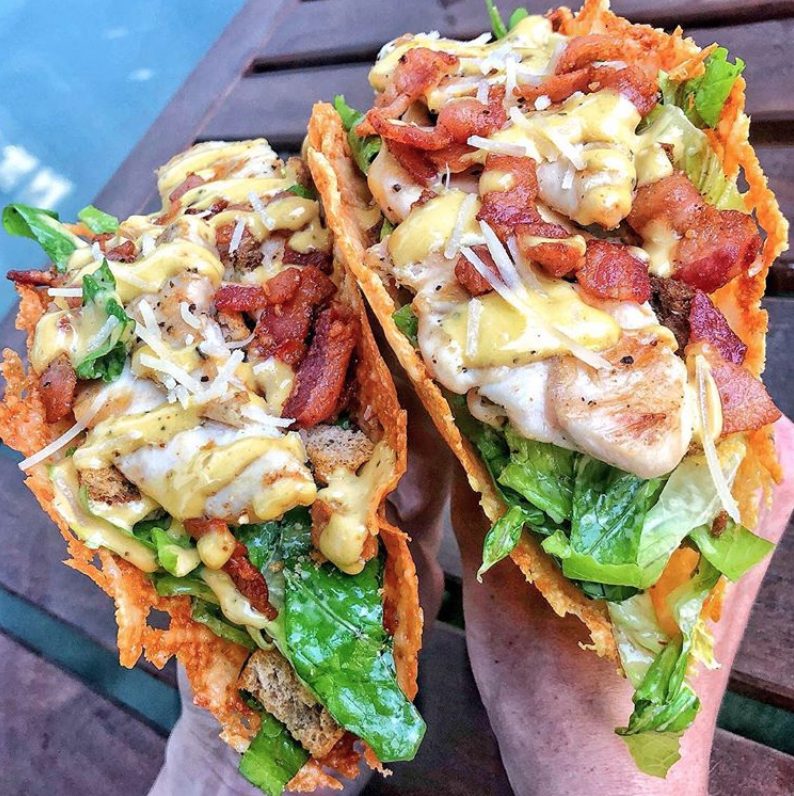 4

 

chicken tenders

 

OR 1 skinless, boneless chicken breast cut into 4 strips

1/2

 

lb

 

chopped bacon

2

 

cups

 

chopped romaine lettuce

2

 

tbsp

 

garlic powder
2

 

cups

 

shredded parmesan cheese
2

 

eggs yolks

3

 

cloves of garlic

2

 

tbsp

 

Worcestershire sauce

1/4

 

cup

 

shredded parmesan cheese

2

 

tbsp

 

lemon juice

1

 

tbsp

 

anchovy paste

2

 

tbsp

 

dijon mustard

1/2

 

cup

 

olive oil
Season the chicken strips (or sliced breast) with salt and pepper. Pan fry for 5 minutes each side. Set aside.

Fry the bacon in a pot until crispy. Degrease the bacon, and combine with the garlic powder.
Add 1 cup of parmesan cheese to a medium high heat frying pan. Spread the cheese making sure it covers the entire pan. Fry until the cheese starts to crips and bubble. Take the cheese out and form in a taco holder.
Combine the eggs, garlic, worcestershire, shredded parmesan, lemon juice, anchovy paste, dijon mustard and olive oil in a blender. Season with salt and pepper.
Coat the romaine with the caesar dressing. Add the lettuce to the hardened parmesan cheese shell. Top the lettuce with the garlic bacon bits, chicken and extra dressing.