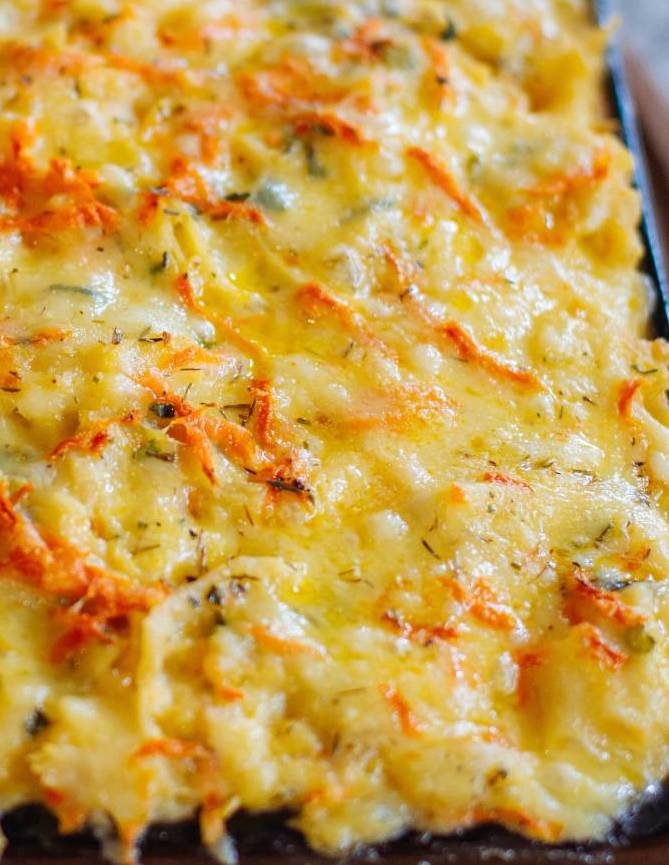 This recipe stumbled into our recipe box and we're ever so glad it did. It's a macaroni and cheese dish like none other you've had before. It's got a bit of Caribbean flair to it, just enough to make you want to book a ticket RIGHT NOW to Trinidad so that you can taste this dish. Since we can't just hop on a plane and fly to the Caribbean, we'll have to settle for making this dish at home. And while we sit around the dinner table enjoying an amazing meal, we can start planning our vacation!
In many ways, this is like any homemade macaroni and cheese: elbow macaroni, cheese, and milk are essentials. A Caribbean macaroni bake takes advantage of a few more flavors from the spice drawer, including dry mustard and a little cayenne for heat. Evaporated milk helps to make the cheesy sauce extra delicious, while the sharp cheddar cheese gives the dish a nice bite. All of these ingredients, along with a few more, are baked together in a casserole dish and out of the oven comes the most savory and rich macaroni and cheese you'll ever taste.
Nothing is overly done here, the seasonings are just right and just enough to make this different from conventional macaroni and cheese recipes. When we think of tropical island vacations, we often think of fresh fruit and fish, not of a rich and savory baked noodle dish. As we sit around the dinner table enjoying each and every bite of our macaroni and cheese and fantasize about our Caribbean vacation, we know that on the itinerary would have to be this macaroni bake. In the meantime, we'll enjoy a little Caribbean flavor right at home in our kitchen.

INGREDIENTS
2 cups elbow macaroni, uncooked
½ small yellow onion, finely chopped
3 cloves garlic, minced
2 large eggs
2 (12 oz) cans evaporated milk
1 tablespoon unsalted butter
1 teaspoon kosher salt
¼ teaspoon pepper
1 teaspoon mustard powder
¼ teaspoon cayenne powder
¼ teaspoon paprika
½ teaspoon dried thyme
4 cups sharp cheddar cheese, shredded and divided
PREPARATION
Preheat oven to 350°F. Coat a 9×13-inch casserole dish with cooking spray. Set aside.
In a large pot, prepare macaroni according to package directions, undercooking noodles by 1-2 minutes. Drain and return noodles back to original pot, with no heat.
Melt 1 tablespoon unsalted butter in a skillet over medium heat. Sauté onions until just golden in color. Add minced garlic and sauté until fragrant, about 1 minute. Add onion and garlic mixture to pot with macaroni and stir to combine.
Beat eggs. Add salt, pepper, evaporated milk, dry mustard, dried thyme, cayenne pepper, and paprika. Whisk until well blended. Pour egg mixture into macaroni pot. Stir to combine.
Add 3 cups of shredded cheese and stir until evenly distributed.
Pour macaroni mixture into prepared baking dish and top with 1 cup reserved cheese. Cover with foil and bake for 30 minutes. After 30 minutes, remove foil and cook for an additional 10-15 minutes, or until cheese on top is just golden in color.
Remove dish from oven and cool for 10 minutes before serving.