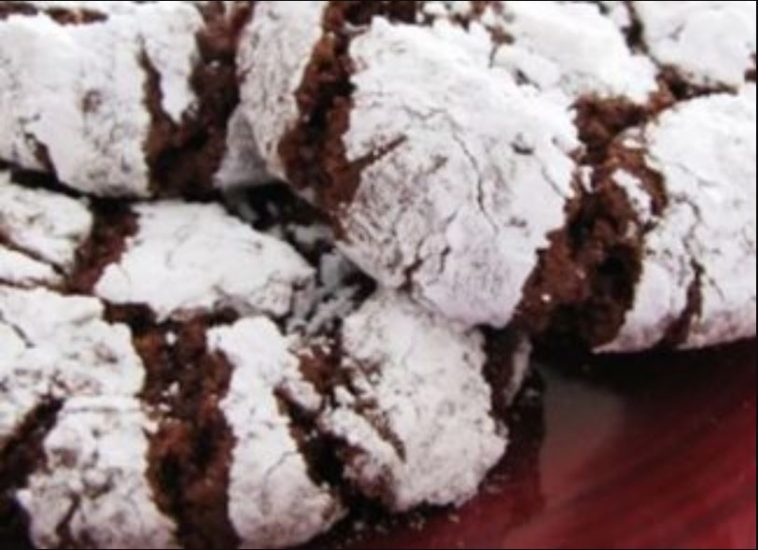 These Chewy Chocolate Crinkle Cookies are soft, chewy, and turn out picture-perfect – my favorite Christmas cookie to bake. Just a short chilling time and an EASY dough make these so simple
I don't think I've ever mentioned this before, but Chocolate Crinkles are one of my all-time favorite Christmas cookies.
I mean, right next to Soft Molasses Cookies, Gingerbread Cookies, Peppermint Brownie Cookies… I'm a cookie monster
My mom used to make these every year when I was a kid, only she dipped them in granulated sugar vs powdered sugar for the crunch. She was wrong (sorry, Mom!). The powdered sugar makes these SO pretty!
I love how to powdered sugar reveals these beautiful crackles once the cookies sink down and cool after baking.
I usually help them out a little with this by gently pushing down on them with the bottom of a drinking glass – this also makes them denser and chewier, exactly how I love them.
I added a few notes to the recipe below to help you figure out which other tweaks you can make for extra fudgy cookies; and what to do if you prefer them taller and softer.
This is one of the cookies we usually leave out for Santa, and he takes his with a mug of Hot Chocolate and a Snickerdoodle on the side
I hope you'll love these as much as we do!
Enjoy,

Ingredients
1 cup unsweetened cocoa powder
2 cups white sugar
1/2 cup vegetable oil
4 eggs
2 teaspoons vanilla extract
2 cups all-purpose flour
2 teaspoons baking powder
1/2 teaspoon salt
1/2 cup confectioners' sugar
Directions
In a medium bowl, mix together cocoa, white sugar, and vegetable oil. Beat in eggs one at a time, then stir in the vanilla. Combine the flour, baking powder, and salt; stir into the cocoa mixture. Cover dough, and chill for at least 4 hours.
Preheat oven to 350 degrees F (175 degrees C). Line cookie sheets with parchment paper. Roll dough into one inch balls. I like to use a number 50 size scoop. Coat each ball in confectioners' sugar before placing onto prepared cookie sheets.
Bake in preheated oven for 10 to 12 minutes. Let stand on the cookie sheet for a minute before transferring to wire racks to cool.