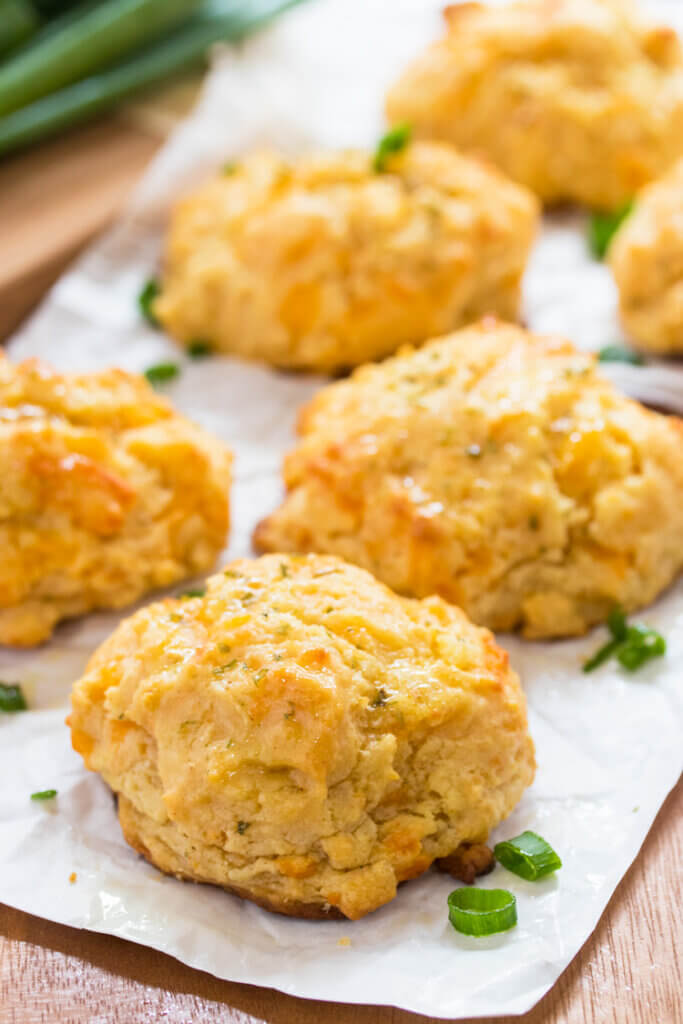 Aren't copycat recipes the best? Aren't biscuits the best? These biscuits in particular are the easiest little creations to whip up. You basically dump the dry ingredients into one bowl, the wet ones into the other, combine them, plop them on a pan and bake for 12 minutes. POOF! Biscuits! You'll have the house smelling superb in 20 minutes, it's a tricky little way to make people think that you are like this super fabulous homemaker person.
It's been a while since I've had real Cheddar Bay Biscuits from Red Lobster but my mom used to bring these home to me anytime she would visit there and I'd swear that these are the exact same thing… the exact same thing! (I really felt the need to say that twice.)
Don't have buttermilk? 
…Yeah, buttermilk isn't a staple in my house either. In fact I only bought some to make these biscuits and now I have to get creative with how I use the rest of the jug. I probably should have gone with one of these Buttermilk Substitute Methods:
You can also thin some plain yogurt  or sour cream with a little milk, (or water if you must).
Mix 1 Tablespoon of White Vingear or lemon juice, + enough milk to equal a cup. Stir and let stand for 5 minutes.
You can also use 1 +3/4 teaspoons cream of tartar + 1 cup milk.
Ingredients
Biscuits:
2 cups all-purpose flour
2 teaspoons baking powder
½ teaspoon baking soda
1 teaspoon granulated sugar
¾ teaspoon salt
½ teaspoon garlic powder
¼ teaspoon cayenne pepper
4 ounces sharp cheddar cheese, shredded (about 1 cup shredded)
1 cup buttermilk, cold* (see below for buttermilk substitution)
½ cup unsalted butter, melted and cooled for 5 minutes
For the Topping:
2 tablespoons melted butter
½ teaspoon garlic powder
¼ teaspoon dry parsley
Instructions
Preheat oven to 450 degrees.
In a large bowl, mix the flour, baking powder, baking soda, sugar, salt, garlic powder and cayenne pepper. Stir in the cheddar cheese and set aside.
In a separate bowl, mix the buttermilk and melted butter together until small lumps form.
Add the buttermilk to the large bowl with the flour and mix until a dough has formed and the ingredients are no longer dry.
Grease a ¼ cup and scoop out the dough with it. Place on the baking sheet, leaving slightly more than an inch between each.
Bake for about 12 minutes, until they are golden brown.
While the biscuits are in the oven, mix 2 tablespoons of melted butter, garlic powder, and parsley. Brush the biscuits with this mixture right when they come out of the oven. DE-LISH!