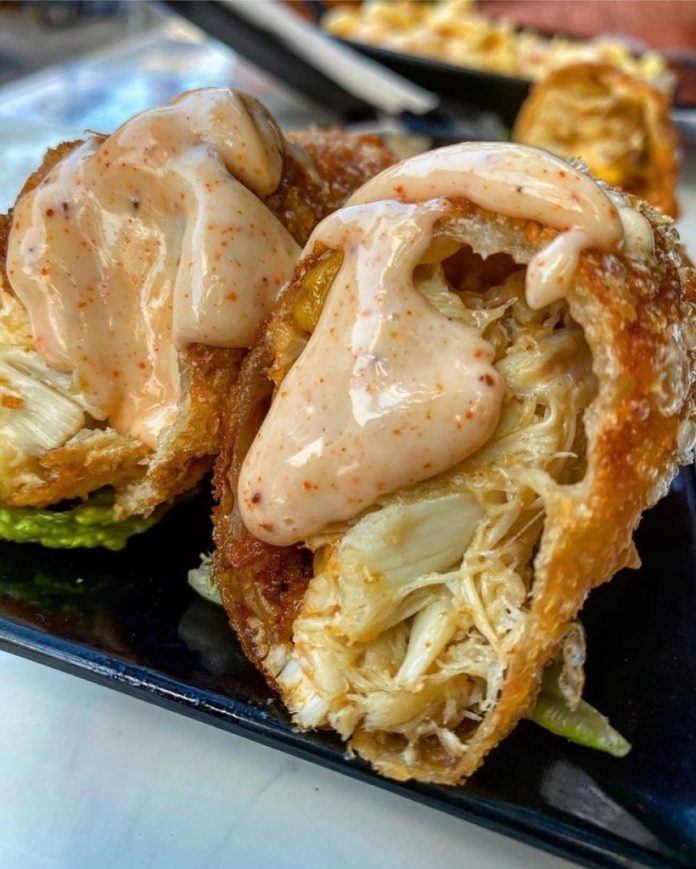 Ingredients :
1 lbs Crabmeat
½ cup Crushed Ritz Crackers
⅓ cup Mayonnaise
1 Large Egg
1 tsp Old Bay
1 tbsp Fresh Parsley
½ tsp Worcestershire sauce
½ Tbsp Lemon Juice
Additinal Ingredients
6 Egg Roll Wrappers
½ cup Water to seal the egg rolls
Instructions
Prepare the crab cakes by whisking together one egg, mayonnaise, old bay, lemon juice, Worcestershire sauce and parsley
Fold crushed ritz crackers and crabmeat with the crab cake sauce. place in the fridge for 15 minutes to set up befor rolling egg rolls.
To prepare the egg rolls layout the wrappers on a cutting board on an angle so the points are north, south, east west. then lightly brush the edges with water to help seal the egg rolls.
Place about 3oz of the crab cake mixture in the middle of the wrapper. fold the point closest to you over the crab cake mixture then fold in the left and right points. Finally continue rolling the wrapper up cupping the egg roll with your hand so the crab cake mixture is evenly distributed. the egg roll shopuld be about 4 inches in length.
To cook the egg rolls lightly spray them with cooking oil then place in the air fryer making sure there is space inbetween the egg rolls. Cook at 375 for about 10-12 minute flipping the egg rolls after 8 minutes.
Once egg rolls are fully cooked and golden crisp let them rest for 3-5 minutes before slicing on an angle and serving.