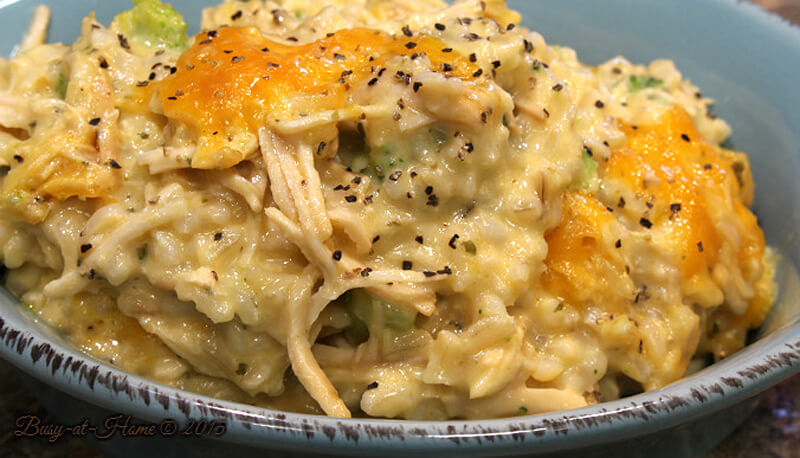 If there's one thing that I look forward to when the weather finally breaks after a long winter, it's getting my garden in. I love planting it, taking care of it, and of course, harvesting all the yummy vegetables. My mom always had a garden when we were growing up, and I never really understood why she wanted to go through so much work when she could just go to the store and buy the vegetables that she wanted. As an adult though, the picture is so much clearer to me now. It's so very rewarding!
I am famous for over-planting though. My husband always tells me that I'm crazy with all the stuff I toss in the ground. I usually find something to do with it, even if it's giving it out to friends and family or donating it. Nothing ever goes to waste.
When I found this recipe on BigOven for a chicken and rice casserole with summer vegetables, I knew it was one I was going to have to use. It had all the veggies in it that I always grew. We had it last summer a few times and it always went over really well. We will be having it several times this year too, as soon as we get some ripe vegetables.
Ingredients
1 box Chicken-flavor Rice-A-Roni (6 Ounce Box)
1 can Cream Of Mushroom Soup (10 Ounce Can)
1 container Sour Cream (8 Ounce Size)
1 whole Rotisserie Chicken
1 container French-fried Onions (6 Ounce Can)
Instructions
Preheat oven to 350 F. Prepare Rice-A-Roni according to package directions. While that is cooking, shred/cut up the chicken (I always use a rotisserie chicken, but you could use leftover chicken or some cooked and shredded breasts, whatever), removing meat from bones.
When Rice-A-Roni is done, add the can of soup and the sour cream, and stir to combine. Add the chicken and mix together. Spread mixture into a sprayed baking dish (9-by-13-inch pan), but you can use what you like for how thick you want it to be) and bake, uncovered, at 350 F for 40 minutes.
Remove from oven, cover with the french-friend onions and bake for 5 more minutes. Remove from oven and try not to eat the whole thing.