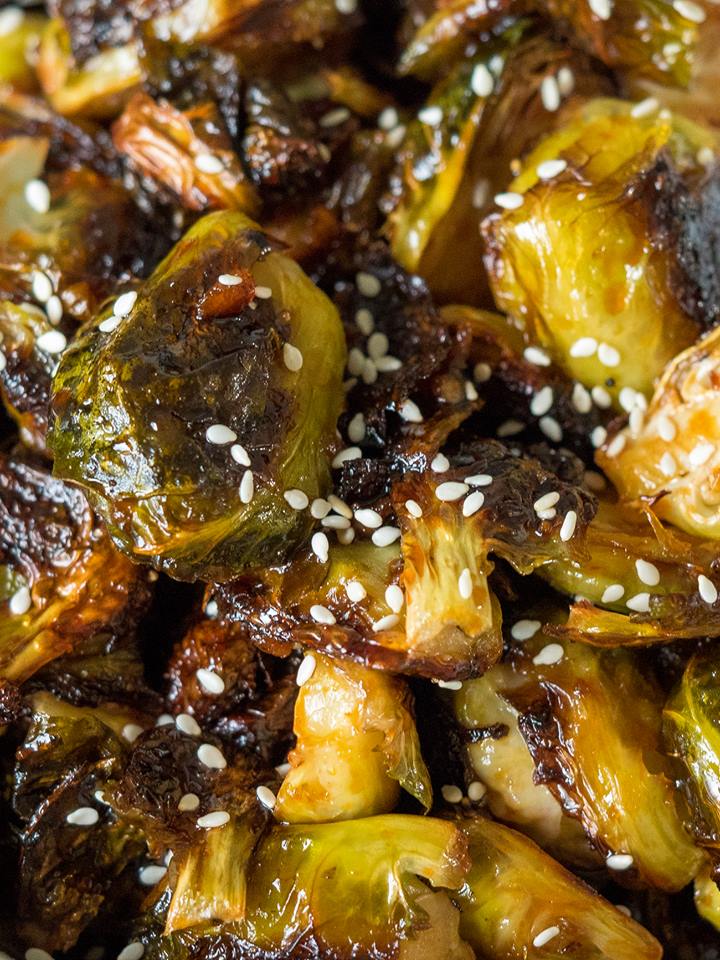 Once thought of with horror and disgust, Brussels sprouts have grown in popularity after many years spent on the "blech" list. There wasn't a kid growing up that didn't cringe at the very mention of these cabbage-like buds. But more and more we're seeing Brussels sprouts pop up on menus and meeting with rave reviews. We've served these for dinner on several occasions and so far, they've been a hit! Brussels sprouts are a hearty vegetable that can be prepared a number of ways, but we particularly love a roasted Brussels sprout. Roasting brings out great flavor and softens what is a firm, tightly wrapped leafy green.
Brussels sprouts are powerhouses of nutrition wrapped up in a tiny little package. Full of great fiber, protein, vitamins and minerals, they offer up clear health benefits. And while healthy eating is always a good idea, we also want our food to not taste like we're eating healthy. Roasted Brussels sprouts accomplish both of these goals; they're a delicious side dish and are a way to get some vegetables into our hungry brood. To keep the dish exciting, we like to use a variety of seasonings to keep everyone interested, and this soy glaze reduction sauce is just the ticket!
Roasting not only softens the Brussels sprouts, but also caramelizes, and those crispy leaves are downright irresistible. A simple toss in olive oil, salt and pepper is great by itself, but whipping up a savory glaze is another way to add extra flavor. Glazes or dressings are a way to enhance the natural sweetness that occurs during the roasting process. It's also a way to introduce or disguise a new and unpopular food item to the table. Our dinner time crowd loves to see these pop out of the oven, and once they've been tossed with this savory sauce everyone dives right in!

INGREDIENTS
1 1/2 pounds fresh Brussels sprouts, stems removed, halved
1/3 cup low-sodium soy sauce
1/4 cup maple syrup or honey
1/4 cup orange juice
1/4 cup vegetable oil
3 cloves garlic, minced
1-2 tablespoons Sriracha hot sauce
1 teaspoon fresh ginger, grated
Kosher salt and freshly ground pepper, to taste
Sesame seeds, optional
PREPARATION
Preheat oven to 400º F and line a large baking sheet with parchment paper or aluminum foil.
In a large bowl, toss halved sprouts in olive oil and season generously with salt and pepper.
Transfer to baking sheet and roast for 20 minutes, then stir and rotate Brussels sprouts before returning to oven and roasting for another 20-25 minutes, or until browned and crispy.
While sprouts cook, combine soy sauce, maple syrup, orange juice, garlic, hot sauce and ginger in a medium saucepan over medium-high heat and cook until reduced by half. 5-8 minutes.
Remove Brussels sprouts from oven and spoon sauce over the baking sheet, tossing sprouts until coated.