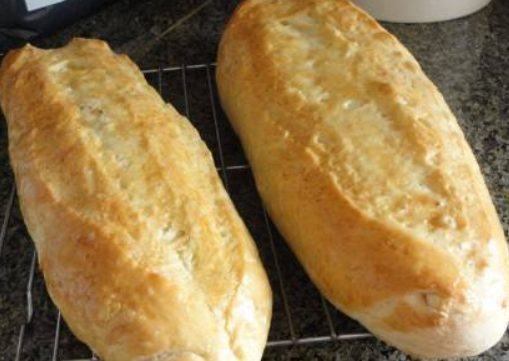 It's easy to be intimidated by yeast bread if you've never done them. But fresh baked, crusty Italian bread is so good it's worth learning.
The right bread can be the difference between a cheesesteak and a "genuine Philly style steak and cheese sandwich."
Philadelphians understand that line. The rest of you might be scratching your heads wondering what I'm talking about. In a word: Amoroso's. Okay, that's not helping you yet, is it?
Okay, put it this way. When you're in Italy, you wouldn't describe a restaurant as "Italian". Kind of obvious, right? Well, when you're in Philly you wouldn't ask for a "Philly style steak sandwich". You'd ask for a cheesesteak. Unless you want people to look at you like you just stepped in a pile of dog poo.
And if you're somewhere else? "Philly style" on the sign is a dead giveaway that it's 
not
. It's either a cheesesteak or it's not, no qualifiers needed.
All of which is a 
really
 long way of getting to the point: I miss Amoroso's 
so bad
. Since I can't get it here, I'm going to make my own. I may not get it perfect on the first try, but I'll keep tweaking it until it's as close as I can get.
To Make this Recipe You'Il Need the following ingredients:
Crusty Italian Bread Recipe
Ingredients :
Crusty Italian Bread
makes 2 loaves
1 1/3 cups warm water
2 1/4 teaspoons yeast
1 Tablespoon brown sugar
1 1/2 teaspoons salt
1 1/2 teaspoons olive oil
4 cups flour
Directions :
Place warm water, yeast and brown sugar in mixing bowl. Stir and let stand for a few minutes until it start to bubble and foam a bit.
Add olive oil and salt. Mix and add the flour gradually. You want to add enough that the dough comes away from the sides of the bowl. You want to mix it with the dough hook for a few minutes.
Cover and let the dough rise until doubled about 30 minutes.
Punch down dough and divide in two and form into two loaves (I doubled the recipe this time.)
Cover with a damp cloth and let rise until doubled.
Preheat oven to 375 degrees.
Beat together:
1 egg
1 Tablespoon water
Brush the risen loaves with the egg mixture.
Make a single long quick cut down the center of the loaves with a sharp knife.
Now here's the secret. Place atleast 1 cup hot water in a shallow pan and place it on the rack underneath the bread. The steam will make the crust turn perfectly. You may need to add a bit more water during cooking. You do not want it to evaporate.
Bake for 25-30 minutes or until the loaves turn golden brown and sound hollow when you tap them.
Remove from pan and let cool on racks. I always like to rub butter over the hot crust!
YUM!