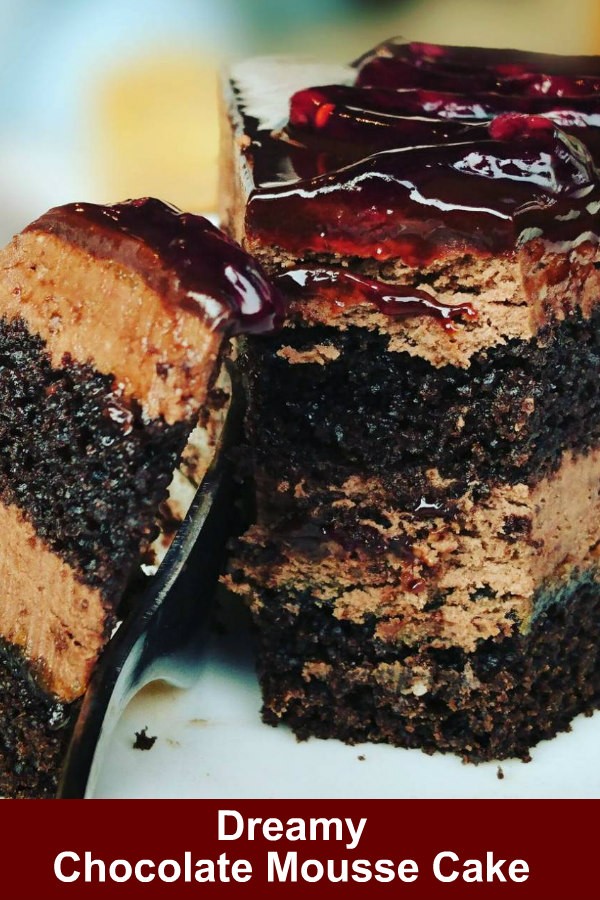 This is THE Chocolate Mousse Cake recipe. Soft and moist chocolate cake layer topped with super creamy chocolate mousse and soft chocolate ganache. 
This is a whole new level. Even for me as a chocoholic. Chocolate cake layer topped with chocolate mousse and a chocolate ganache on top. I've never loved a dessert as much as right now.
Although I'm already in Christmas baking mood, I love such evergreen baking recipes like this here.
Picture it: You with a slice of Chocolate Mousse Cake at 105°F.
Also picture it: You with a slice of Chocolate Mousse Cake at 32°F.
Do you see what I mean? I think we both agree that a slice of this Chocolate Mousse Cake is fine in every situation. No matter how cold or hot it is outside.
Ok. I already let the cat out of the bag. You know that there are three heavenly layers of dreamy chocolate with three different textures. Cake – mousse – ganache.
As much as I enjoyed baking and eating this cake, as much I loved to photograph it. I'm really passionate about photographing and work hard to improve myself ongoing.
I didn't tell you that I'm a winner of the PDN Taste Food Photography Award 2018. I'm super thrilled, and it's a huge honor to be a first place winner. I mean. The judges. You have to see the judges. These are editors of Magazines like the Food Network.
When I look back to my first posts, I would love to push the delete button. On the other hand, these are also great recipes and deserve to live on my blog. It's a part of the journey, and I love to see how I improve over time.
At this point, I want to thank you for visiting my blog. I can't tell how happy I am when I see that my monthly visitors are growing as well as my social media followers. This shows me that you enjoy what I do and this is by far the best feeling in the world.

IngredientsCake:
2 cups white sugar
1 3/4 cups flour
3/4 cup dark unsweetened cocoa powder
1 1/2 teaspoons baking soda
1 1/2 teaspoons baking powder
1 teaspoon salt
2 eggs
1 cup milk
1/2 cup vegetable oil
2 teaspoons vanilla extract
1 cup hot strongly brewed coffee
Mousse:
4 eggs
1/2 cups granulated sugar
5 cups cold heavy whipping cream, divided
2 cups semi-sweet chocolate
Cherry topping:
8 ounces cherries frozen or fresh pitted and diced into small pieces
1/4 cup granulated sugar
1/4 cup water
1/2 Tablespoon cornstarch
1/2 Tablespoon lemon juice
InstructionsCake:
Preheat oven to 350 degrees F. Grease and flour two 9 inch cake pans and place parchment paper in bottom of cake pan.
In a medium bowl, stir together the sugar, flour, cocoa, baking soda, baking powder and salt. Add the eggs, milk, oil and vanilla, mix for 3 minutes with an electric mixer. Add in the hot coffee. Combine for 1 minute on slow speed. The batter will be very wet. Pour evenly into the two prepared pans.
Bake for 30 to 35 minutes in the preheated oven, until a toothpick inserted comes out clean. Cool for 10 minutes before removing from pans to cool completely.
Mousse:
Beat eggs and granulated sugar with your mixer for about 3 minutes.
Meanwhile heat 2 1/2 cups heavy whipping cream in a small saucepan until just hot, not boiling. With mixer on low pour the hot cream into the egg mixture slowly until combined.
Next, add the egg/cream mixture back into the saucepan and over low heat, stir for five minutes constantly until thickened. Do not boil.
Remove from heat and stir in chocolate until melted. Cover and refrigerate for 2 hours, until chilled, stirring occasionally.
When the mixture is completely chilled and firm use your whisk attachment on your hand mixer to whip the remaining heavy cream until stiff peaks form. Remove chocolate from fridge and using a spoon fold/stir the whipped cream into the chocolate until incorporated and smooth.
Cherry Topping:
In a medium saucepan, bring the cherries, sugar, and water to a boil over medium-high heat, stirring often.
In a small bowl, stir the lemon juice and cornstarch together until smooth. Whisk it into the boiling cherry mixture.
Return to a boil, stirring constantly.
Cook until the liquid has thickened, which should take about 1 more minute.
Remove the pot from the heat and taste. You can add a little extra sugar or lemon juice if needed at this point, depending on your personal preference.
Allow the sauce to cool to room temperature
Put it together:
Place 1 cooled cake on a serving plate, Place 1/2 of the mousse on top. Place the other cake on top then the rest of the mousse. Then place cooled cherry topping on top.
Refrigerate until ready to serve.