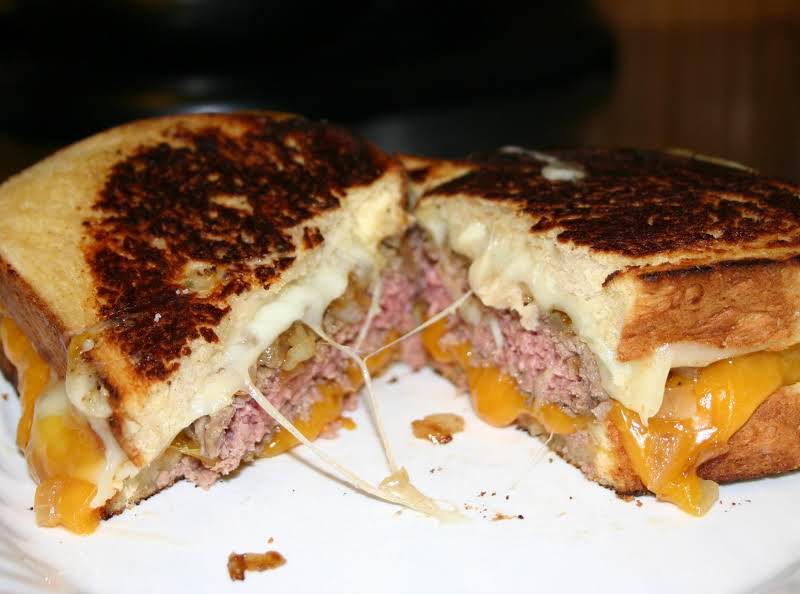 Ingredients
BURGERS
8-12
 oz mushrooms, sauteed
2
 large onions, sliced thin and sauteed
salt and pepper, to taste
GRILLED CHEESE
4-8
 slice favorite cheese for making a grilled cheese sandwich
butter or margarine
Directions
1.
 Divide the ground beef into 4. Form large patties that will be bigger than your slices of bread and they should be thin. Place them into a large skillet and pan fry them, adding the mushrooms and onions, and seasonings.
2.
 Prepare the grilled cheese sandwiches as you normally would. Butter the outside of the bread. Grill on a griddle or in a large skillet.
3.
 When the grilled cheese sandwich is done, quickly open each one up. Put on individual plates. Place burgers on one slice of bread, top with mushrooms and onions, put top slice of bread back on top of sandwich. Cut each sandwich on an angle and serve with the usual condiments.
4.
 This is a messy sandwich… and the best one you will ever eat!!! I have been making these for 50 years! Everyone in my family requests this… We will be having this at our Super Bowl Party again this year!
Last Step:
Don't forget to share!