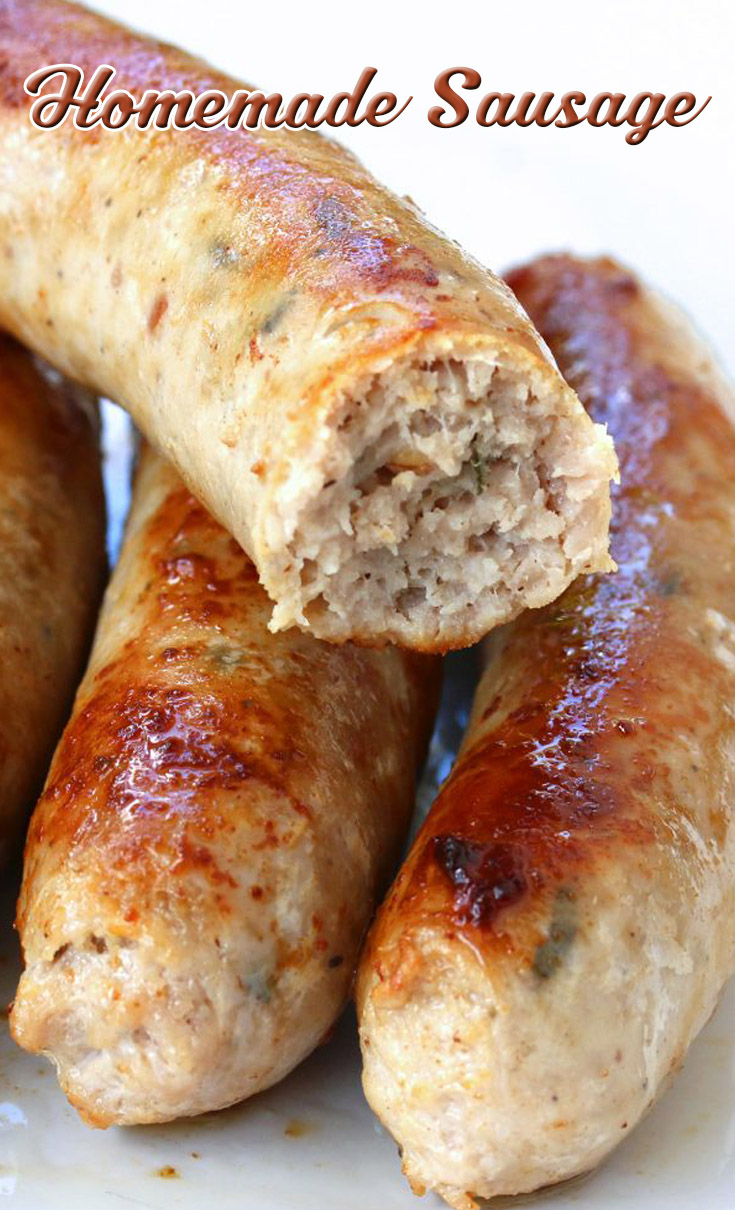 Ingredients List
10 pounds boneless pork butt/shoulder( this cut is recommended for the right ratio of lean meat to fat)
3/4 cup chopped fresh sage
3 tablespoons chopped fresh thyme
5 tablespoons sea salt
2 tablespoons ground ginger
1 1/2 tablespoons freshly ground white pepper
1 1/2 tablespoons freshly ground black pepper
2 tablespoons minced fresh garlic
1 tablespoons ground nutmeg
2 cups ice water
Natural sheep casings (3/4 inch/20 mm, about 30 feet), soaked and thoroughly rinsed
For a sweeter variation: Add 1 cup of maple syrup along with the ice water
Directions
Cut the pork into 1/2 inch chunks and freeze them for about 45 minutes to get them to a temperature of 32 degrees F (0 celsius). Grind the pork through a 1/4 inch (6mm) die. Grind the meat quickly into the bowl of a stand mixer (ideally have the bowl set atop an ice bath to keep the meat cold) and then grind it all a second time. Chill the meat in the refrigerator while you assemble the spice mixture.
In a bowl combine the salt, sage, thyme, ginger, white and black pepper, garlic and nutmeg.
Remove the ground meat from the fridge and place it on the stand mixer fitted with a paddle attachment. (If you have room in your freezer, pre-chill the mixing bowl.) Add the spice mixture and the ice water. Mix it with the paddle for 3-4 minutes until threads begin to appear in the meat (if you take a clump of meat and pull it apart with your fingers you will see tiny threads pulling apart). Chill the mixture in the fridge while you prepare the sausage stuffer. Take a bit of the meat mixture, fry it up, taste it and adjust the seasonings if needed.
Thread the sausage stuffer with the prepared sheep casings, fill the sausage stuffer with the meat mixture, and fill the casings being careful to avoid air gaps while also not overstuffing the casings. Twist the sausages into links. Use a sausage pricker to prick any air bubbles out of the links.
Cook the sausages by heating up some oil in a frying pan and frying the sausages on each side for about 3 minutes until browned and done in the middle (internal temperature of 155 degrees F).
OR you can poach the sausages (do not boil) in lightly salted water until their internal temperature reaches 155 degrees F, then let them cool in ice water, wrap them and store in the fridge for up to a week or in the freezer for up to 2 months.