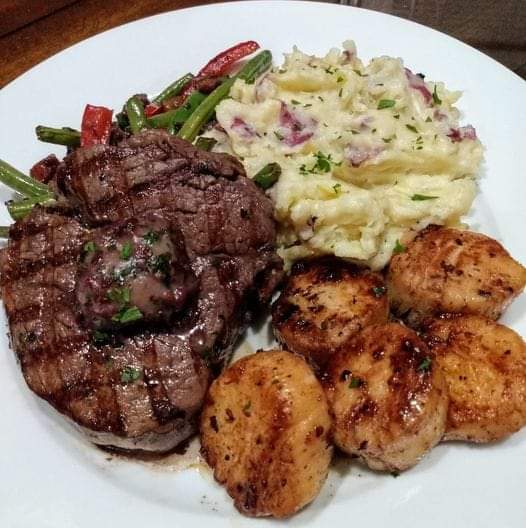 INGREDIENTS
WHOLE ROASTED BEEF TENDERLOIN
1 whole beef tenderloin trimmed and tied
Olive oil
Kosher salt
Freshly cracked black pepper
Probe thermometer
BASIC BORDELAISE SAUCE
2 teaspoons olive oil
4 large shallots finely chopped
salt
2 teaspoons flour
2 cups dry red wine
3 cups beef tenderloin pan juices and beef stock*
2 tablespoons unsalted butter
BASIC CHIMICHURI SAUCE
2 medium shallots minced
2-3 large cloves garlic minced
1/4 cup red wine vinegar
1/2 cup extra virgin olive oil
1 bunch flat leaf parsley big stems removed, finely chopped
1 teaspoon kosher salt
freshly cracked black pepper to taste
GARLIC TOASTS WITH FILET MIGNON AND HORSERADISH SAUCE
1 baguette thinly sliced on a bias
8 tablespoons salted butter 1 stick
2-3 cloves garlic minced
1 1/2 cups sour cream
1/4 cup prepared horseradish
salt to taste
~1 lb roasted and chilled beef tenderloin very thinly sliced*
finely chopped fresh chives for garnish
INSTRUCTIONS
WHOLE ROASTED BEEF TENDERLOIN
Let your meat sit out at room temperature for an hour prior to roasting. Preheat the oven to 275 degrees F, then place the loin on a sheet pan.
Rub all over with olive oil, then rub generously on all sides with kosher salt and freshly cracked black pepper. Insert a probe thermometer into the center of the meat.
Roast on the center rack of the oven until your desired internal temperature is reached. Rare: 115-120 degrees F. Medium-Rare: 125-130 degrees F (this is what I recommend). Medium: 135-140 degrees F.
Remove the probe, then move the pan up to the top rack of the oven and turn on the broiler. Keep a close watch until it's nicely browned on top, about 30 seconds to a minute, then use a pair of tongs to turn it 1/4 of the way. Repeat until browned on all 4 sides.
Remove from the oven, cover with foil, and let rest for at least 15-20 minutes or longer. Slice and serve as desired.
BASIC BORDELAISE SAUCE
Heat olive oil in a large saucepan over medium heat. Add shallots with a pinch of salt, then cook until softened and just starting to turn golden, about 10 minutes.
Stir in flour, then whisk in red wine and beef stock. Bring up to a simmer and cook until thickened and reduced by half.
Set a fine mesh strainer over another saucepan, then strain the mixture, being sure to press down to extract every last bit of liquid. Taste for seasoning and add more salt and pepper as desired. Whisk in butter, then serve immediately.
BASIC CHIMICHURI SAUCE
Combine the shallots, garlic, and red wine vinegar in a medium bowl. Let sit for 10 minutes.
Whisk in the olive oil, parsley, salt, and pepper. Taste for seasoning and adjust as needed.
Alternatively, this sauce can be made in a food processor.
GARLIC TOASTS WITH FILET MIGNON AND HORSERADISH SAUCE
Preheat the oven to 325 degrees.
Melt butter in a small saute pan along with garlic. Arrange baguette slices on a sheet pan, then brush with garlic butter. Bake until lightly golden and crisp, about 15-20 minutes. Let cool.
Make the sauce by whisking together the sour cream and horseradish. Season with salt to taste.
Top each piece of garlic toast with 1-2 pieces of thinly sliced beef tenderloin. Finish with a dollop of horseradish sauce and garnish with freshly chopped chives. Serve immediately.