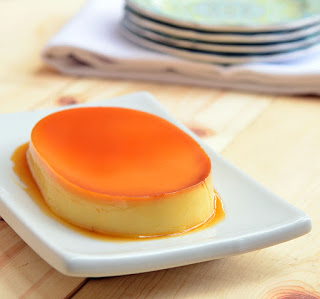 WHAT IS LECHE FLAN?
Leche Flan is a traditional Filipino dessert made of evaporated milk, condensed milk, and egg yolks. It also has a layer of caramelized sugar that turns into syrup after cooking them together.
Prep time: 20 minutes
Cooking time: 30 minutes
INGREDIENTS
10 egg yolks

1 can (12 oz) evaporated milk – – or fresh milk

1 can (14 oz) sweetened condensed milk

1 teaspoon vanilla extract

1 teaspoon key lime zest – (optional)

9 tablespoons granulated sugar
HOW TO COOK LECHE FLAN?
The traditional way to cook leche flan is to steam it using a steamer. But nowadays, it is also common to bake it in the oven using bain-marie or a water bath. Rice cooker can also be used as a steamer.
First, you have to make the caramelized sugar. Simply add sugar to the learners and cook it over medium heat until it melts into a texture similar to molten-lava. Let it cool down and set.

Next is to make the custard by combining the egg yolks, condensed milk and evaporated milk.

Pour this mixture to the now hardened caramelized sugar.

Place the learners in a steamer or a bain-marie and steam until an inserted toothpick comes out clean.

Let it cooled down (in the fridge) to set. To serve, turn it over on a plate with the caramel layer on top.
THE SECRET TO A CREAMY AND SMOOTH LECHE FLAN
     -This Leche Flan was baked in the oven in a water bath instead of steamed.
-Try not to beat too fast to avoid adding air to the egg-milk mixture.
-When making the caramel, make sure that all the sugar has completely melted and not gritty.
ADDITIONAL TIPS
Try not to burn the sugar when doing the caramel. Burnt sugar will give the Leche Flan a bitter taste.
You can add a bit of water to the sugar to melt it faster.