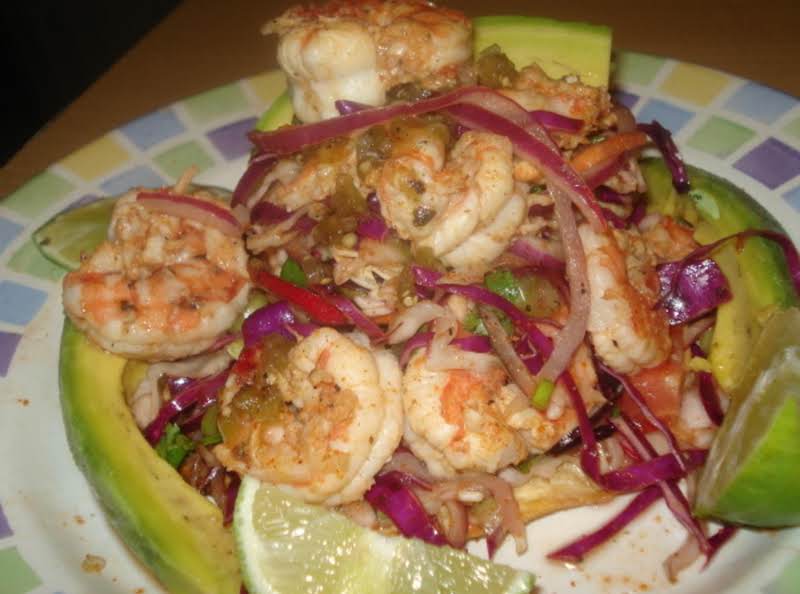 Ingredients
1
 c canola oil or vegetable oil
4/6
 medium corn tortillas, about two per person
24
 large jumbo shrimp shelled, cleaned, and deveined about a pond and a half
1
 tsp dried chipotle chile powder
3
 c shredded cabbage or coleslaw mix
2
 large scallions, thinly sliced
1
 medium red onion sliced thin
3
 large radishes, sliced very thin
1
 large tomato, seeded and cut into 1/4 inch dice
1/4
 c cilantro leaves, chopped
1
 large ripe avacado, thinly sliced
6
 large limes. (4 squeezed lime juice set aside) one cut in wedges for serving and one to squeeze over the shrimp
1/2
 tsp each of salt & ground black pepper or to suit your taste.
1/2
 tsp each of garlic powder, cumin powder, ground oregano, all in a small shaker to season shrimp
Directions
1.
 In a medium deep skillet heat cup of canola oil until hot. Fry one tortilla at a time over moderately high heat until golden on both sides aboiut 2 minutes per tortilla. remove to a paper towel lined pan. Sprinkle with a little salt while they are hot. Set oven at lowest setting and put pan in the oven just to keep tortillas warm.
2.
 Have a grill pan ready to pre heat, but do not heat yet. In a large bowl squeeze the juice of one lime over the shrimp. Use one tabelspoon of the olive oil to sprinkle over the shrimp. Next sprinkle the chipotle powder, and shaker of seasonings garlic, cumin,& oregano over the shrimp. Next season with a little salt and black pepper. Toss the shrimp gently so they season well. Set seasoned shrimp aside to meld a little.
3.
 In a large bowl toss the red and white cabbage or slaw mix with the scallions, red onion, radishes, tomatos, Next in a large measuring cup add sour cream, lime juice, honey, balsamic vinegar, olive oil, salt, pepper, cayanne pepper, and a little more chipotle powder about 1/4 tsp. Mix all very well. Pour over the shredded cabbage and mix real real good. Taste to see if seasonings are right. You might want a little sweeter add a little more honey.
4.
 Now heat the grill pan, add a tabelspoon or two of olive oil and grill shrimp over moderate
Mexican Shrimp Tostadas (Tostadas de Camaron)
high heat, turning once, until they are pink and cooked through about 4 minutes total cooking time.
5.
 Take out your warm tortilla tostadas set on a plate top with cabbage slaw, chipotle shrimp, avacado slice, and serve with a lime wedge. Pass the salsa. I usually serve with a tomatillo salsa or red salsa. Enjoy