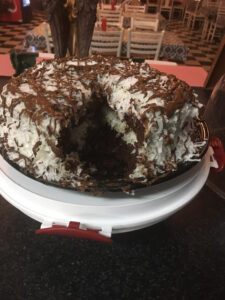 y basic recipe has not changed and remains extremely simple to make. In the mouth, always find this explosion of chocolate flavor with a melting texture! For the horror touch, I suggest a spider web effect icing, quick to make! You just need to add fake plastic spiders and why not candy to complete your dessert.

* Ingredients:

+ THE CAKE
° 70 g sugar
° 5 eggs
° 200 g dark chocolate
° 200 g semi-salted butter
° 1 tbsp of flour
+ THE GLAZING
° 6 cl of fresh cream
° 50 g icing sugar
° 150 g dark chocolate


* Preparation:

STEP 1
Preheat oven 190 ° C
Melt the chocolate and butter in a double boiler.
Once melted, remove from heat.

2ND STEP
Add the sugar to the chocolate and mix.
Continue by adding an egg and mix. Repeat the operation for the 4 remaining eggs.
Add the flour and smooth the mixture.

STEP 3
Pour the appliance into a mold (preferably less than 23 cm in diameter) previously buttered.
Bake for about 30 minutes. Get out when it's slightly shaky in the middle.
Let cooled 10 min, unmold also let cooled .

STEP 4
Bring the cream to a boil, remove from the heat, add the previously chopped chocolate and let stand for 1 minute. Whisk and spread on the cake. Leave to set in the fridge.

Pour 1 tablespoon of water in a bowl and whisk in the icing sugar. Pour into a pastry bag and decorate the cake. Finish by placing small plastic or candy spiders …

ENJOY !