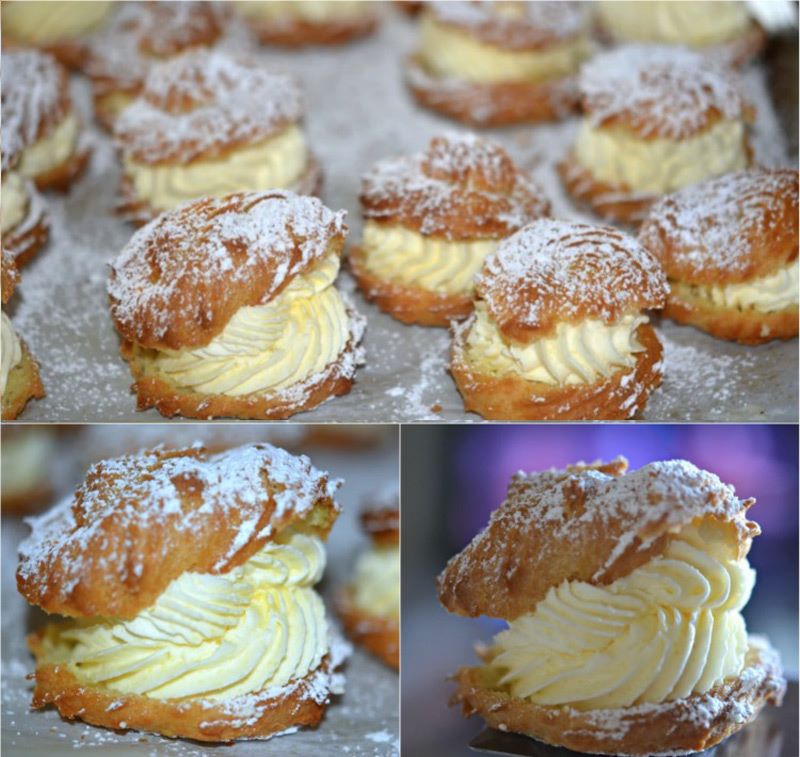 When you need a fast and fabulous dessert to feed a crowd, this is it!  I made about 16 cream puffs from this recipe and the filling makes enough for you to generously stuff each one. No skimping allowed on the filling because it is THE BEST!  This time I piped my shells with a pastry bag but that is definitely not necessary. I usually just use 2 spoons and push the dough onto the cookie sheet!  Either way they will look pretty. A nice dusting of powdered sugar finished them off, too!  Try these out and see just how simple it is to conquer the cream puff!
You'll swear they are the best cream puffs you've ever seen, because they are gorgeous. And when you taste them? Real sweetened whipped cream and delicious creamy custard in a perfect golden crust. Yes, they'll also be the best cream puffs you've ever tasted.
These little beauties have been the star of our family's Easter dinners since I can remember. When they come through the front door I am sure they're backlit with heavenly light. My husband worries I'm giving away some family secret by sharing it. But, I'm generous. And I would love if these became a family tradition for you too.
To Make this Recipe You'Il Need the following ingredients:
Ingredients
1 stick butter
1 cup water
1 tsp vanilla
1c flour
4 eggs
MOM'S FAMOUS FILLING:
1 PINT HEAVY CREAM
1 PACKAGE (3.4 OUNCES) INSTANT VANILLA PUDDING
⅓ CUP MILK
Instructions
1) Bring the water, butter and vanilla to a boil. Add flour.
2) Stir constantly until it leaves the side of the pot and forms a ball. Remove and cool.
3) Beat in the 4 eggs, one at a time until smooth.
4) Drop by T. onto parchment lined cookie sheets and bake at 400 degrees for about 25-30 minutes.  LET COOL.
5) Slice in half and pipe or scoop in Mom's filling.  Dust with powdered sugar or pour on melted chocolate.
Filling
Beat the cream, pudding powder and milk in a mixer until thick like whipped cream!