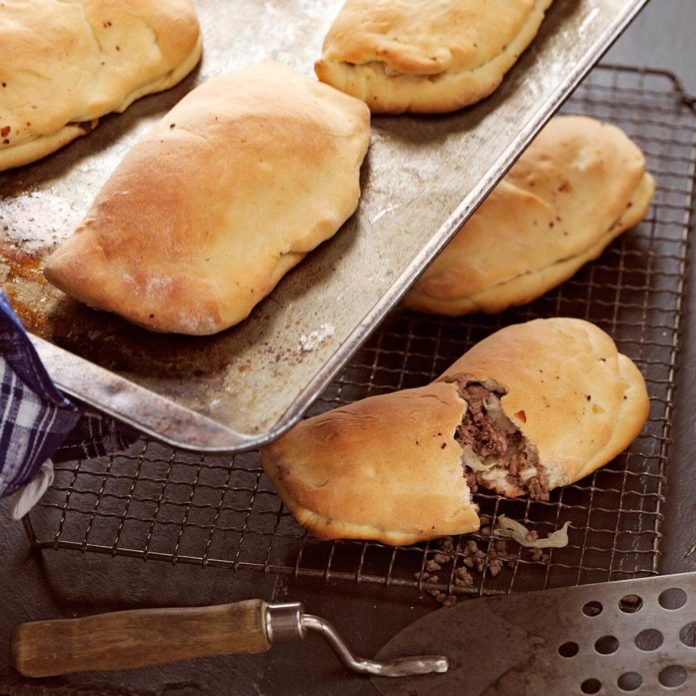 When I moved to Nebraska, I discovered many ethnic foods that I had never heard of before. A friend introduced me to this runza recipe, a German-Russian beef sandwich, and it quickly became a family favorite.
Ingredients
4-1/2 cups all-purpose flour, divided
1/4 cup sugar
2 packages (1/4 ounce each) active dry yeast
1 teaspoon salt
3/4 cup whole milk
1/2 cup water
1/2 cup shortening
2 large eggs
FILLING:
2 pounds lean ground beef (90% lean)
2 medium onions, chopped
4 cups chopped cabbage
2 teaspoons seasoned salt
1 teaspoon garlic powder
1 teaspoon pepper
Directions
Place 1-3/4 cups flour, sugar, yeast and salt in a large bowl. Heat the milk, water and shortening to 120°-130°. Pour over flour mixture; add the eggs. Beat with an electric mixer on low speed until blended. Beat 3 additional minutes on high. Stir in the remaining flour; knead until smooth and elastic, 6-8 minutes.
Place dough in a greased bowl; cover and let rise in a warm place until doubled, about 1 hour.
Meanwhile, in a large skillet, cook beef and onions over medium heat until meat is no longer pink; drain. Add the cabbage, seasoned salt, garlic powder and pepper; cook until cabbage is wilted.
Punch dough down; divide into 12 portions and cover with plastic wrap. Working with one piece at a time, roll into a 6-in. square. Place 3/4 cup meat mixture in the center of each square. Fold dough over filling, forming a rectangle. Pinch edges tightly to seal and place on greased baking sheets.
Bake at 350° for 18-20 minutes or until golden brown. Serve hot.
Nutrition Facts
1 sandwich: 433 calories, 16g fat (5g saturated fat), 84mg cholesterol, 524mg sodium, 48g carbohydrate (10g sugars, 4g fiber), 23g protein.