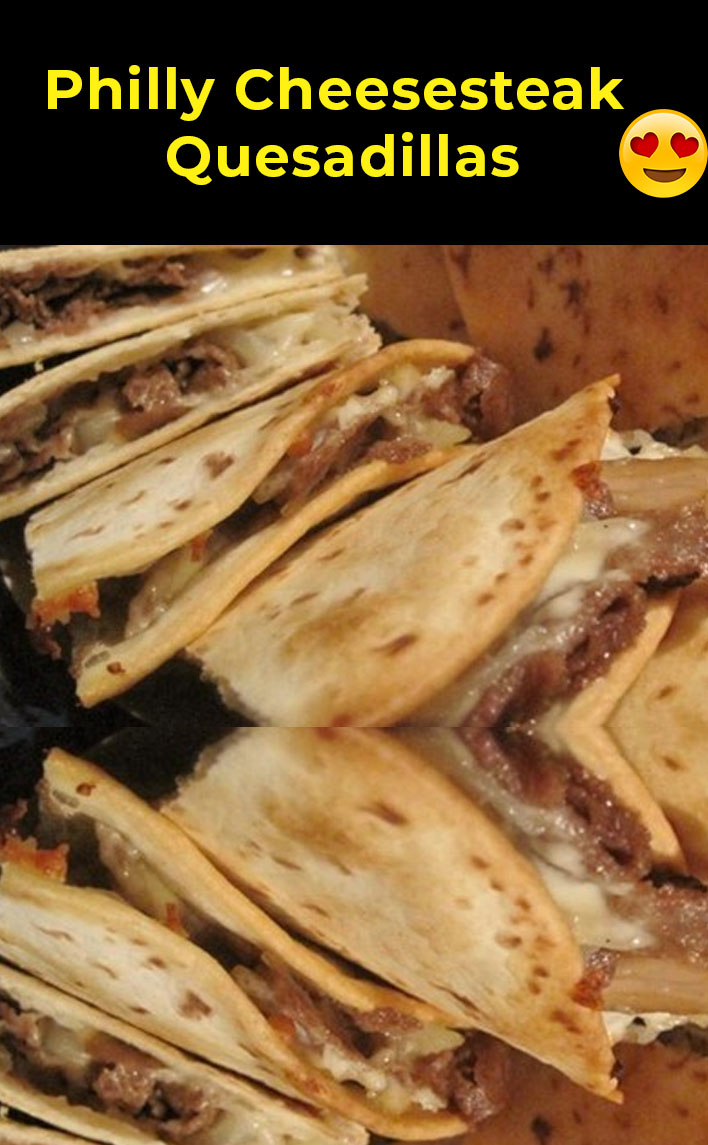 Philly Cheese Steak Quesadillas are filled with melted provolone cheese, tender crisp onions and peppers, fresh mushrooms, and seared steak slices. If you love a Philly Cheese Steak sandwich, you will love these quesadillas. They are perfect for game day!
These Philly Cheese Steak Quesadillas really have it all! You can dip them in salsa for even more flavor and sour cream goes great with them too.
If you want to, you can use chicken instead of beef.
I use sirloin or rib-eye for the steak. Use sirloin if you want to go a little leaner, and use rib-eye if you want all the juicy flavor that goes with a fattier meat.
I season the steak with steak seasoning for added flavor. Use any brand you like. I tend to use McCormick Montreal Steak Seasoning.
To save time, cook the onions, peppers, mushrooms, and steak a day ahead of time and refrigerate them. Then just warm them in the microwave before making your quesadillas.

Ingredients :
1 (1 pound) beef top sirloin, thinly sliced
2 small onions, sliced
2 green bell peppers, sliced
1 cup barbeque sauce (such as Bull's-Eye(R) Texas-Style Bold Barbeque Sauce)
8 (10 inch) flour tortillas
2 cups shredded Cheddar cheese
Directions :
Preheat oven to 425 degrees F (220 degrees C).
Heat a skillet over medium heat; cook and stir beef until browned, 5 to 7 minutes. Add onions and green bell peppers to beef; cook and stir until softened, 5 to 10 minutes. Pour barbeque sauce over beef mixture and simmer until sauce is slightly reduced, about 10 minutes.
Lay 4 tortillas on a baking sheet and top each with beef mixture and Cheddar cheese. Top each Cheddar cheese layer with a tortilla.
Bake in the preheated oven for 10 minutes; flip the quesadillas and cook until cheese is melted, about 5 minutes more.