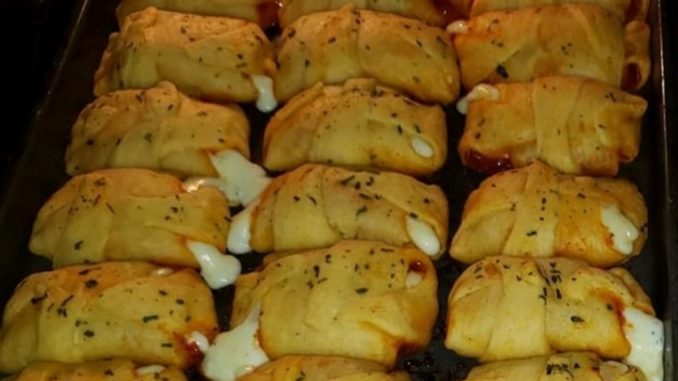 How To Make Pizza Rolls?
Pizza Rolls– these pepperoni pizza rolls are a crowd-pleaser from the beginning. These mozzarella and pepperoni-stuffed rolls are extra delicious with your preferred pizza sauce.
Stuffed crust essentially consists of pepperoni baked inside of the thick crust. For the filling, I included pepperoni, mozzarella, and parmesan cheeses, and Italian seasonings. The final result is an ooey-gooey joy that you won't be able to avoid eating!
A new favorite in your house would be these Pizza Rolls. These savory bits make for a perfect snack, from school lunches to movie night parties and game day parties. Let's make it together!
FOR THIS PIZZA ROLLS RECIPE YOU'LL NEED THE FOLLOWING INGREDIENTS :
2 refrigerated tubs.Of Pizza crust.
Shredded Mozzarella cheese, to taste; I used a cup and a half.
1 Cup. Of Pepperoni, I sliced and chopped it.
½ Cup.Of Parmesan cheese.
Garlic salt.
Italian seasoning, to taste
Marinara sauce, for dipping.
AND THIS IS HOW I made it:
Step 1:
The first thing I started with, as usual, was preheating the oven at 425 degrees Fahrenheit, and I dusted the working surface with flour.
Step 2:
Over the prepared working surface, I rolled them out the tubs of pizza crusts.
Step 3:
After that, I sprinkled directly the Italian seasoning, and I added a coat of garlic salt.
Step 4:
Then, I added a layer of shredded mozzarella and parmesan cheeses, over the seasonings, and I also arranged the chopped pepperoni over it.
Step 5:
At this step, starting by the short end, I rolled the crust into a tight log, and using a serrated knife, I sliced each roll into an inch of parts.
Step 6:
I place the rolled pizzas on a pan thinly greased with cooking spray or a small amount of oil.
Step 7:
And In order to crisp, it took on average about 10 to 12 minutes for the crust to become thoroughly baked.
Step 8:
Once the rolled pizza was baked, I served it immediately with marinara sauce.
If you are looking for simple recipes to serve them with these pizza rolls, they are many salads and sauces on our website, so don't hesitate for a moment to take a look at the related posts I've added below!!!