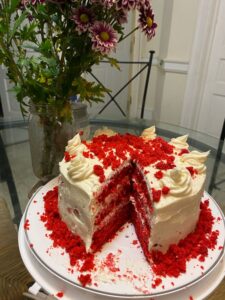 Ingredients
1 cup butter, softened
1/2 cup shortening
3 cups sugar
6 large eggs, room temperature
2 bottles (1 ounce each) red food coloring
1 teaspoon lemon extract
1 teaspoon vanilla extract
3-1/4 cups all-purpose flour
1 tablespoon baking cocoa
1/2 teaspoon baking powder
1/2 teaspoon salt
3/4 cup 2% milk
ICING:
1 package (8 ounces) cream cheese, softened
1/4 cup butter or margarine, softened
1/2 teaspoon vanilla extract
3-3/4 cups confectioners' sugar
1/2 cup chopped pecans, toasted
Directions:
Preheat oven to 325°. Grease and flour a 10-in. fluted tube pan.
In a large bowl, cream butter, shortening and sugar until light and fluffy, 5-7 minutes. Add eggs, 1 at a time, beating well after each addition.
Beat in food coloring and extracts (mixture may appear curdled).
In another bowl, whisk flour, baking cocoa, baking powder and salt; add to creamed mixture alternately with milk, beating after each addition just until combined.
Transfer to prepared pan. Bake until a toothpick inserted in center comes out clean, 70-75 minutes. Cool in pan 15 minutes before removing to a wire rack to cool completely.
For icing, in a large bowl, beat cream cheese and butter until creamy. Beat in vanilla. Gradually beat in confectioners' sugar until smooth. Spread over cake; sprinkle with pecans. Store in the refrigerator.