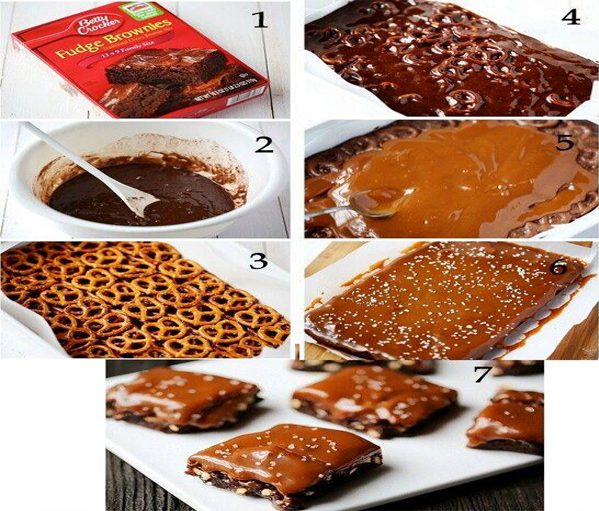 INGREDIENTS:
Hmm. It looks like these ingredients aren't on sale today.
1 (14 ounce) bag individually wrapped caramels, unwrapped, divided
1 (19.8 ounce) package fudge brownie mix (such as Betty Crocker®)
1/2 cup vegetable oil
1/4 cup water
2 eggs
1/4 cup butter
1 tablespoon milk
1 cup chopped pretzels
3/4 cup chocolate chips
1/3 cup chocolate-covered toffee bits
DIRECTIONS:
Preheat oven to 350 degrees F (175 degrees C). Grease a 9×13-inch baking dish. Cut 9 caramels in half.
Beat brownie mix, vegetable oil, water, and eggs together in a bowl until batter is well-combined. Pour batter into prepared baking dish. Place caramel halves in 3 rows of 6 in the brownie batter so that there will be a caramel half in the center of each brownie.
Bake in the preheated oven until a toothpick inserted into the center comes out almost clean, 25 to 30 minutes.
Melt remaining caramels, butter, and milk together in a microwave-safe glass or ceramic bowl in 30-second intervals, stirring after each melting, for 1 to 3 minutes (depending on your microwave). Pour caramel mixture over warm brownies and top with pretzels, chocolate chips, and toffee bits. Cool completely before cutting into squares.