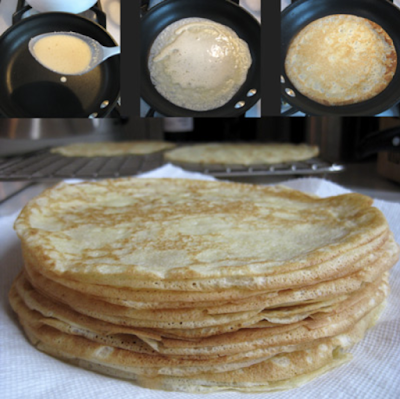 1 cup cold milk
4 eggs
1/2 teaspoon salt
1 1/2 cups flour
4 tablespoons melted butter
How to do it:
Julia places the liquids, the egg and the salt in a blender, then adds the flour, then the butter. I whip it together (in that order) by hand. You might be surprised at how thin the dough is, but that's right – to quote Julia, she should just "smear a wooden spoon". Cover and refrigerate at least 2 hours.
Making the pancakes I've never owned an appropriate pancake pan, and don't let that stop you. Back in the days before non-stick pans, I used a small pan and some oil. Now I'm just using a six inch non-stick pan
pancake making
We will see if I horrify the professionally trained Zen, but here is my approach: heat the pan on a medium to medium-high flame and hold it in one hand. With the other hand, scoop out about 2/3 to 3/4 of the dough in a tablespoon. Pour into the pan and turn and tilt the pan very quickly with your wrist (a bit like a spinning top that is losing momentum), so that the dough spreads evenly over the surface of the pan. You just want enough batter to fill the bottom of the pan.
Place the pan on the heat for 1 to 2 minutes. The background should be slightly brown. Gently lift and edge the pancake with a spatula, then dig under and turn over. Cook another 30 to 90 seconds (depending on the heat of the pan). Then place on a wire rack to cool for a few minutes before stacking and repeating the process.
It may take a few tries at first to get the right amounts of dough and movement, but once you understand, it's quick and easy.