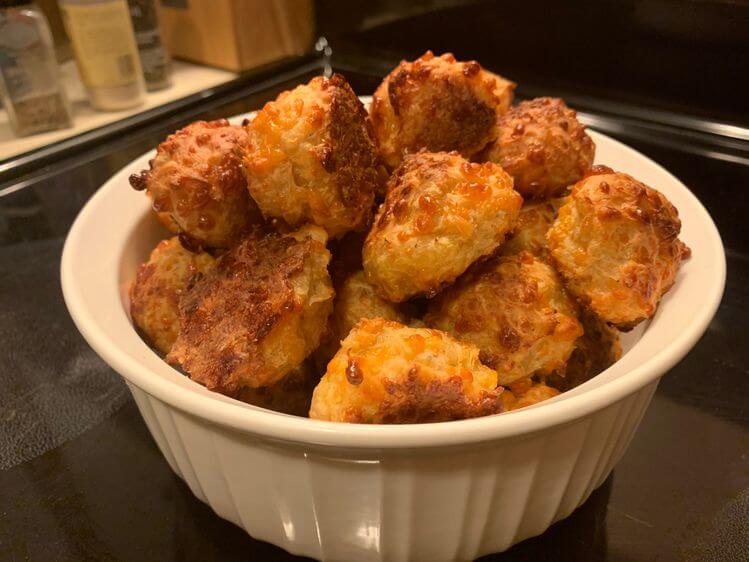 My favorite part about the keto diet is the amazing food that you can eat every day without any guilt.
One of those foods I love is Keto Spicy Chicken Cheeseballs because they are so easy to make and full of flavor.
To change things up a bit from my usual I concocted these Spicy Keto Chicken Cheeseballss – and now it is hard to decide which is my favorite!
INGREDIENTS:
3 cups all purpose baking mix Bisquick or Arrowhead Mills brands have both been tested
1 pound ground chicken
2 tablespoons Tapatio Salsa Picante hot sauce
4 cups sharp cheddar cheese shredded
½ cup milk
½ teaspoon oregano
¼ teaspoon garlic powder
¼ teaspoon onion powder
dash or salt and pepper
INSTRUCTIONS:
Preheat oven to 350 degrees. Line a baking sheet with parchment paper and set aside.
Mix together all of the ingredients in a large bowl, either by hand or with a stand mixer fitted with a paddle attachment.
Once combined, form into small balls, approx 1 inch in diameter.
Place on prepared baking sheet, and bake for 20 to 25 minutes, or until golden brown with an internal temperature of 165 degrees.
NOTES:
*I fit mine all onto one large sheet pan, but mine were touching. I was ok with that. If you're not, by all means use two.