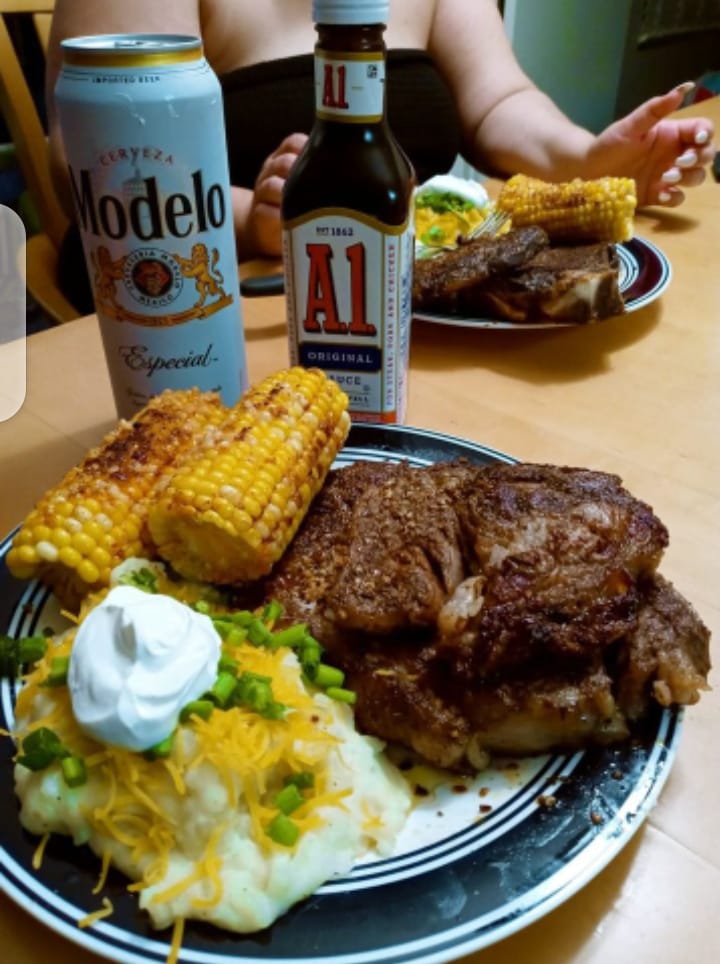 Ingredients
Steaks
2 (10-ounce) filet mignon
2 tablespoons vegetable oil
1 tablespoon coarsely cracked black peppercorns
2 tablespoons unsalted butter, at room temperature, optional
8 (ounces) Sautéed Mushrooms
Roasted Garlic Mashed
2 1/2 pounds red potatoes, cubed
1 pkg Pasta Partners Creamy Roasted Garlic Sauce Mix
2 tablespoons butter
1 cup milk
1/2 teaspoons salt, or to taste
1/4 teaspoon black pepper
Instructions
Preheat the oven to 400 degrees F.
Heat a large, well-seasoned cast iron skillet over high heat until very hot, 5 to 7 minutes.
While skillet is heating pat the steaks dry with a paper towel and brush them lightly with vegetable oil. Sprinkle peppercorns over both sides of steaks, pressing lightly to evenly coat all sides.
Heat butter in a large saucepan over medium heat. Cook and stir mushrooms, until mushrooms are lightly browned, about 5 minutes. Reduce heat to low and simmer until mushrooms are tender, 5 to 8 more minutes.
When the skillet is ready, add the steaks and sear them evenly on all sides this should take 2 minutes per side, about 10min total.
Sautee Mushrooms and spoon over steaks, place the skillet in the oven. Cook the steaks until they reach 120 degrees F for rare or 125 degrees F for medium-rare on an instant-read thermometer.
Remove the steaks from skillet to serving plate and cover tightly with aluminum foil let rest for 10min. then serve.
Roasted Garlic Mashed Potatoes
Wash and cube potatoes. Cook potatoes in 4 quarts of boiling water until tender (approx. 20 minutes).
Add Pasta Partners Creamy Roasted Garlic Sauce Mix to milk and butter in microwave safe dish. Microwave on high for 3 to 5 minutes until slightly thickened, stirring after each minute or two.
Drain potatoes and mash. Add the Roasted Garlic Sauce until desired consistency is achieved. Salt and pepper to taste.