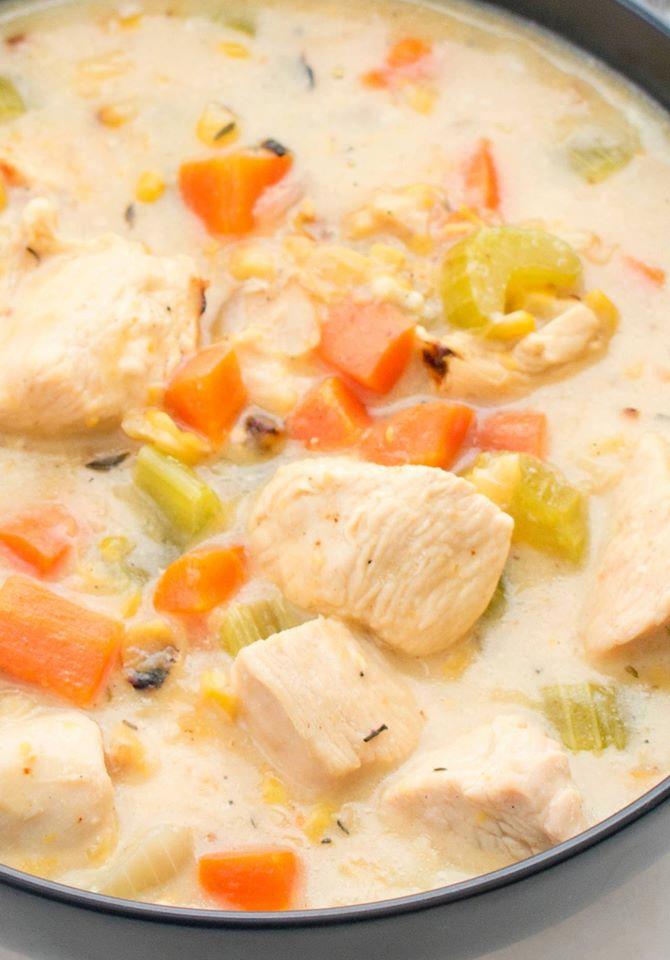 There's something so warm and comforting about a rich chicken corn chowder, maybe it's the creamy-cheesy broth that's just so amazingly satisfying. A bowl of this is just so inviting and beyond delicious, and it's super easy to make! We can all appreciate how easy it is to open a can of soup and heat it up on the stove, but when you see how quick and easy our chicken corn chowder is, you'll quickly reconsider that canned version.
A chowder is a great way to use up leftovers in the fridge, especially vegetables that might be near the end of their life, and leftover chicken that would otherwise go to waste. We dice up the chicken, potatoes, and veggies and throw them together into a pot. To thicken the broth, all we needed to do was whip up a quick roux, made even more amazingly rich with the addition of cheddar cheese. We like to use a sharp cheddar here because it adds flavor, but to make this kid-friendly you can easily go with a milder cheese. In minutes we've whipped up a weeknight meal that will taste absolutely amazing!
One spoonful of this amazing chowder will have you convinced you've just pulled off a leftovers miracle. Just look at how chock-full of goodness this is! Chunks of carrots and celery, sweetness from the onion, tender chunks of chicken and a cheesy, creamy broth all come together in one pot of deliciousness. If you've ever stared into your fridge and wondered what to do with what you've got, here's one option for whipping up an amazing meal, a rich and hearty chicken corn chowder.

INGREDIENTS
2 boneless, skinless chicken breasts, cooked and diced
2 medium Russet potatoes, peeled and cubed
2 carrots, peeled and diced
2 celery stalks, diced
½ yellow onion, diced
1 cup frozen corn
4 cups chicken broth
2 cups milk
¼ cup all-purpose flour
4 tablespoons unsalted butter
3 cups cheddar cheese, shredded
2 tablespoons olive oil
2 teaspoons kosher salt, divided
1 teaspoon black pepper, divided
1 teaspoon dried thyme
PREPARATION
Heat olive oil in a large pot on medium-high heat. Sauté onion, carrots, and celery until softened. Season with thyme, 1 teaspoon salt and ½ teaspoon pepper.
Add chicken broth and potatoes. Bring to a boil then reduce heat to low.
Melt butter in a skillet on medium-high heat. Add flour and whisk to combine. Slowly add milk and cheese and whisk until thickened.
Pour cheese mixture into the stock pot and stir to combine.
Add corn, cooked chicken, 1 teaspoon salt, and ½ teaspoon pepper. Continue to simmer until chowder is thickened.