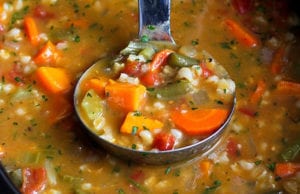 Who here loves a hot, steamy bowl of homemade veggie soup? I bet that would be all of you!
I am an avid fan of soup during the winter months. When the cold wind is whipping around outside and your the air hurts your face there is nothing better to come home to than a big old bowl of hot and steamy soup. I saw this recipe for veggie soup over on The Frugal Chef YouTube channel and knew I had to share it with all of you. This soup is so easy to make you won't even be able to believe it!
I love how simple this recipe is! I was able to whip it up in a jiffy. My husband and kids, who normally are very picky eaters, thoroughly enjoyed this delicious meal, as well. Talk about a mom win!
Now, if you're saying to yourself, "Get on with it lady and show me the recipe!" I totally understand! So, without further ado, please hop on over to the next page and set your eyes on a complete list of ingredients and instructions. Enjoy!
To Make this Recipe You'Il Need the following ingredients:
Ingredients:
1 yellow onion, chopped
2 carrots, cut into ½-circles
2 stalks celery, chopped
1 medium sweet potato, peeled and cut into ¾-inch pieces
4 garlic cloves, minced
1 ½ cups frozen green beans
¾ cup pearl barley
1 tsp paprika
1 tsp dried oregano
¾ tsp dried thyme
½ tsp salt
½ tsp ground pepper
1 (14 oz.) can petite diced tomatoes
6 cups low-sodium vegetable broth
2 cups water
¼ cup minced flat-leaf parsley
Instructions:
Combine all of the ingredients, except for the parsley, in a large (6-quart) slow cooker.
Cook on LOW until the barley is tender, about 8 hours.
Stir in the parsley.